Your current location:
Urban Beekeeping Workshops
Urban Beekeeping Workshops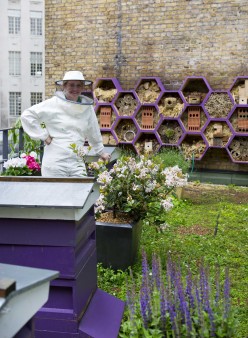 St. Ermin's Hotel, Camilla, on Terrace
The St Ermin's Hotel, Westminster, London, home to over 350,00 Buckfast Honeybees, is holding a series of taster urban beekeeping workshops during the Chelsea Fringe led by bee guru, Camilla Goddard of Capital Bee. The popular workshops are held around the hotels six hives and will take place on Saturday 29th April, 6th 13th and 27th May 2017 - with further dates to be added during the hotel's September Honey Month.
The 2.5-hour workshops outline the complexities of bee society and beehaviour; highlight the close relationship between bees and flowers and give guidance on what to plant, when and where and how best to site hives in gardens or allotments. Participants also visit London's first 'Bee & Bee' hotel on the hotel's third floor bee terrace to get real hands-on experience handling bees, managing their hives and collecting raw honey.
"The St Ermin's six active hives are doing well again this year, producing on average 25lb of honey each year, helped by the fantastic range of flora in the surrounding royal gardens and parks. London's only Bee & B at the hotel is also doing well, providing a welcoming stopover for solitary bees and a host of other friendly creepy crawlies!" Said Camilla Goddard, Capital Bee
As well as their continued support for London's growing Urban Beekeeping movement, the St. Ermin's Hotel has also recently installed its very own Roof Kitchen Garden. Featuring plenty of bee-friendly plants for the colony to utilise, the new working area also features greenhouses and space to grow fresh, fruits, vegetables and herbs for use in the Hotel's signature restaurant, The Caxton Grill. The home-grown produce will be used throughout new Executive Head Chef, Alexander Boyd's outstanding seasonal menus - which also feature sweet hints of St. Ermin's Honey throughout.
For more information click here