Your current location:
Reasons to Love Loft Living Flexible space
Reasons to Love Loft Living Flexible space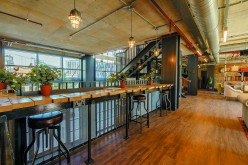 The architectural design of loft apartments means that residents have a wonderful sense of space, and their open plan nature provides plenty of flexibility in terms of how to arrange furniture. At Ferrum in Wembley Park, huge floor-to-ceiling windows flood the loft-style apartments with light, while high ceilings with exposed pipework capitalise on the sense of space. Both furnished and unfurnished apartments are available to rent, providing flexibility to those wanting to call Ferrum home.
Urban vibes
There's a definite sense of connection to the urban environment when you live in a loft apartment, led by the history of the building or its style; in cities across the world, loft living is typically available in repurposed factories or warehouses. Newer buildings, like Ferrum, this style is achieved by exposed pipework and industrial-inspired lighting. Ferrum's raw materials are softened by basalt and silk grey kitchens with Amtico flooring in aged timber and royal or sun-bleached oak.
On-site amenities
For many renters, their home is about more than the individual apartment. A building's social spaces can help foster a sense of community with amenities to enrich with residents' lifestyles. At Ferrum, social spaces include a huge resident lounge, named 'The Foundry,' which occupies an entire floor of the building with views to the podium gardens featuring BBQs with a dining area. There's also a functional training gymnasium, with everything from boxing bags and a tyre flip to free weights. Add in the library and laptop bar overlooking a spacious atrium and home-working rooms with 100MB/s Wi-Fi, there is plenty to keep residents happy. There's even an on-site Laundr-o-mutt for residents with pets to wash and clean mucky pups after a caper around Ferrum's dedicated dog run.
Location
Residents of Ferrum at Wembley Park are just a 9-minute train journey from Marylebone, meaning they have not only the vibrant local area with its unrivalled entertainment, designer outlet and independent shops and restaurants to enjoy, but also all the sights of one of the planet's most exciting cities.
Loft living is cool
On screen, loft apartments are now synonymous with the homes of the design-forward, whether that's successful creatives or young professionals living in trendy neighbourhoods. Let's face it, loft living is just very, very cool. New York, Berlin, Barcelona, Copenhagen, Hong Kong... it's no coincidence that the most exciting urban locations around the world all offer ultra-stylish, industrial chic loft apartments. Each city delivers its own take on loft-style living and London is certainly no exception.