Your current location:
Join Pocket's discounted home buying revolution for first time buyers
Join Pocket's discounted home buying revolution for first time buyers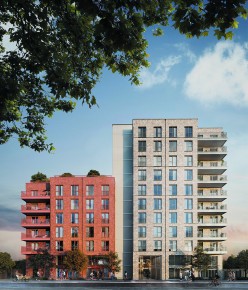 Pocket Living is on a mission to give back to those who make London tick – the 'city makers' who are part of the dynamic force powering the capital.
Day by day, you contribute to our city in so many ways. Not just through your work in the police force, but by supporting local shops, bars, and restaurants. You energise the local economy and enliven your neighbourhood and so we at Pocket want to ensure you have your own slice of the Capital to call your own.
We build developments across London exclusively for local first-time buyers, enabling those on middle incomes or those that earn too much for social housing, but not enough to buy a new home on the open market, the opportunity to get their foot on the housing ladder in the city they love. Our Pocket homes are available to first-time buyers at a 20% discount compared to the market value, with residents owning 100% of the property. It is not Shared Ownership and there's no extra rent to pay.
We also understand the process of buying a home can seem complex and daunting, so we've developed a First Time Buyer Guide to take you through the stages, from choosing your apartment to picking up your keys.
You're in good hands
Pocket has been helping city makers become homeowners in London since 2005 and our mission has seen us help more than 1,000 people. This includes Hasanga, a 32 year old case officer who was fed up of paying unaffordable rent and desperately wanted his own place.
"I have lived in London for most of my life and in fact over the last ten years I have worked in every borough of the Capital. I started renting around five years ago by myself but everything soon got very expensive. I decided to start renting a room from my sister and niece, which was really nice but also quite stressful and I needed my own space", says Hasanga.
"Owning a home in London can seem like a bit of a myth. My parents have a house near the City but they bought that around 20 years ago. No one can do that right now, it is difficult and I really didn't think I was going to be able to do that in London. I even thought about moving abroad to Germany or Australia purely because I'd had enough of looking for places here and I felt like I couldn't keep doing this. I thought I would probably get paid more there too but I didn't want to go because I love my job. Luckily for me, I then came across Pocket."
Hasanga moved into our Harbard Close development in October 2022, joining 77 other first-time buyers on the start of their home buying journey.
"Buying my home at Harbard Close was one of the happiest days of my life. Everyone is so welcoming and I've been invited to all of these different group events. Some of my neighbours have also organised yoga sessions – I haven't joined one of these yet but I know I am welcome. It is all really fun", adds Hasagna.
This year is an exciting one for Pocket as we look to launch more homes for first-time buyers in Waltham Forest, Greenwich and Barnet, in addition to those available in East Croydon. This includes Osier Way E10 in Leyton. Available to those living or working within the borough, the one bedroom apartments start from £274,000, and the two bedroom apartments from £398,000. A number of the two-bedroom homes are also dedicated to those who require wheelchair accessible housing.
Not familiar with a Pocket home? Our apartments are designed to maximise the feeling of space whilst creating a homely environment. Our one-bedroom apartments are divided via a hallway into an open-plan kitchen and living space, a double bedroom, and wet room with a large walk-in shower area. The living space and bedroom are enhanced spatially with high ceilings and full height windows to maximise daylight.
Interestingly, half of our residents say communal spaces are their favourite feature within their developments, which is why our communities always have areas such as roof terraces, gardens and hubs to foster a spirit of togetherness.
This is no different at Osier Way, which has three roof terraces; the Active Garden for exercise, the Productive Garden to grow fruit and veggies, and the Social Garden which has stunning London views.
Other spaces to explore include the exercise room for HIIT and aerobics workouts, and a wellness room for relaxation. There is also a co-working lounge, a social room that dons a pool table and a projector screen, ideal for movie nights, and an office-style space designated for quiet working.
For those who like to host dinner parties, residents can do so in the communal dining rooms that have their own kitchens, while a reflection room is available for quiet contemplation and prayer.
To be eligible to purchase a Pocket home, you can't already own another property, and, for now, you must live or work in the borough of the respective development. All buyers must earn under the Mayor of London's income threshold for affordable housing (currently £90,000). When the homes are sold on, new purchasers must meet the original criteria.
• If you would like more information on our new homes or to download our First Time Buyer Guide visit: www.pocketliving.com.
You can also call us on 020 7291 3683.