Your current location:
STREAMLIGHT® LAUNCHES TLR-8® A AND TLR-8® A G WEAPON LIGHTS
STREAMLIGHT® LAUNCHES TLR-8® A AND TLR-8® A G WEAPON LIGHTS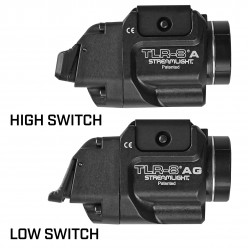 New Lights Feature Two Rear Switch Position Options; Each Offers Coloured Aiming Laser
Streamlightâ Inc., a leading provider of high-performance lighting devices, introduces the TLR-8® A and the TLR-8® A G, featuring red or green aiming lasers, and offering ergonomic rear switch options with either a low or high position to match users' shooting style. Both lights deliver 500 lumens and feature a rail clamp that attaches and detaches easily from the side of a broad array of compact and full frame weapons.
"These compact, lightweight weapon lights are designed to maximise visibility and targeting capability in a variety of law enforcement, concealed carry and applications," said Streamlight President and Chief Executive Officer Ray Sharrah. "They each feature ambidextrous on/off rear switches with low and high positions to suit user preference. And each comes equipped with an integrated colour aiming laser to enable users to readily identify a potential threat before taking any action."
The TLR-8® A and the TLR-8® A G, feature a powerful LED that delivers 5,000 candela and 500 lumens over a beam distance of 140 metres. The TLR-8® A offers a 640-660nm red laser to maximise visibility and long-range targeting capability, while the TLR-8® A G features a 510-520nm "Eye Safe" green laser to improve users' ability to focus on targets during daylight hours. Both lights can be deployed in Laser-Only mode to keep the gun on target and in LED-Only mode to provide bright, focused light, or in dual mode, which uses both light sources.
The run time for both lights is 1.5 hours in LED-Only, LED and Laser, and strobe modes. In Laser-Only mode, the TLR-8® A provides a run time of 60 hours, while the TLR-8® A G delivers 11 hours. Securely fitting to a broad range of weapons, the new TLR lights feature a one-handed, snap on and tighten interface that keeps hands away from gun muzzles when attaching or detaching them. The lights also include a Safe Off feature, locking them so they cannot be turned on accidentally. A key kit is included to securely fit each light to the broadest array of hand guns of any light on the market.
Constructed with 6000 Series machined aircraft aluminum with a black anodised finish, the TLR-8® A and TLR-8® A G feature an IPX7-rated design, making it waterproof up to 1 metre for 30 minutes. Extensively live-fire tested with impact-resistant construction, the lights are packaged as the TLR-8® A FLEX and TLR-8® A G FLEX. Each comes with a High switch mounted on the light, plus an included Low switch.
The TLR-8® A FLEX has an MSRP of £281*, while the TLR-8® A G FLEX has an MSRP of £263.50*. Both lights include Streamlight's Limited Lifetime Warranty.
For additional information, visit streamlight.com or connect with us on facebook.com/streamlightUK ; twitter.com/StreamlightUK and instagram.com/streamlight_europe
*Prices are based on current exchange rates and are correct at time of print.