Your current location:
PolyTac® 90X USB, a multi-fuel, right-angle personal light
PolyTac® 90X USB, a multi-fuel, right-angle personal light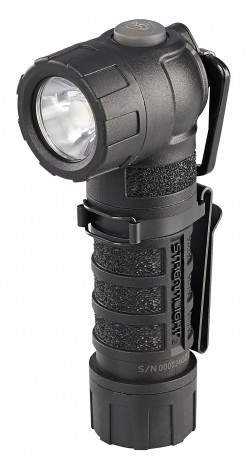 Streamlight Inc., a leading provider of high-performance lighting devices, have launched the PolyTac® 90X USB, a multi-fuel, right-angle personal light that delivers 500 lumens and uses a Streamlight SL B-26™ protected USB rechargeable Li-Ion battery pack. A PolyTac® 90X with two CR123A batteries is also available.
The PolyTac® 90X USB is a complete rechargeable system that includes a Streamlight SL-B26™ rechargeable battery with integrated micro-USB port. The light can also accept two 3-Volt CR123A disposable lithium batteries. This multi-fuel capability enables users to charge the light on the go or insert cell batteries when a charging source is unavailable.
"The PolyTac® family of lights is among our most popular with fire and rescue personnel because of their extreme brightness, compact size and exceptional durability," said Streamlight Vice President, Sales and Marketing, Michael F. Dineen. "This newest addition features a 90° head, multiple attachment methods and multi-fuel battery technology, giving users the ability to power and recharge the light through convenient USB recharging or via disposable batteries. Whether conducting rescue operations, investigating fire scenes or signalling others during emergencies, it's ideal for first responders."
The new light includes an integrated carabiner style D-ring clip for a variety of attachment methods and a multi-position, reversible pocket clip that attaches to MOLLE, turnout gear, harnesses and a variety of mounting positions. It is also available with a Gear Keeper® retractor for attachment to gear, clothing or equipment. The Gear Keeper® system features a high-strength nylon tether with a 36" extension and 6 oz. of retraction force.
The PolyTac® 90X USB features the latest in power LED technology for extreme brightness. When using the SL-B26™ USB Li-Ion battery pack, it delivers 500 lumens and runs for 3 hours and 45 minutes on high. It also provides 500 lumens and a run time of 2 hours and 30 minutes on the high setting when using CR123A batteries. A battery indicator built into the on/off button flashes red when battery recharging or replacement is needed.
Featuring a multi-function, head-mounted push button switch that is easy to operate with gloved hands, the light is made from high-impact, super-tough nylon polymer with textured grip. The light features an IPX7-rated design that makes it waterproof to 1 metre for 30 minutes and it is impact-resistant tested to 2 metres.
Product Features:


Lumens: High: 500 lumens; Low: 85 Lumens


Battery: Streamlight SL-B26™ Protected Li-Ion USB Rechargeable Battery Pack, CR123A Lithium


Size: 4.43" (11.25 cm)


Weight: 4.8oz. (136.08g) – with Streamlight USB Li-Ion battery


Weight: 4.3oz. (122g) – with CR123A batteries.


Available in black, yellow or orange, the PolyTac® 90X USB and PolyTac® 90X have MSRPs of £85 and £71, respectively. The Gear Keeper® models, available in orange, have MSRPs of £102 and £89, respectively. Both come with the Streamlight Limited Lifetime Warranty.
For additional information on either Streamlight product, visit streamlight.com or connect with us on facebook.com/streamlightUK; twitter.com/StreamlightUK and instagram.com/streamlight_europe
*Prices are based on current exchange rates and are correct at time of upload.