Your current location:
British Police v Royal Navy at United Services ground, Portsmouth on Wednesday 1st July 2015 Sponsored by George Burrows
British Police v Royal Navy at United Services ground, Portsmouth on Wednesday 1st July 2015 Sponsored by George Burrows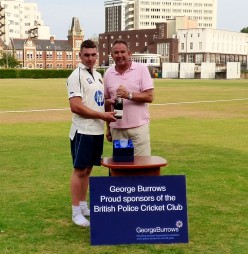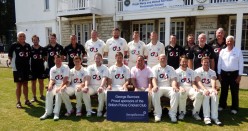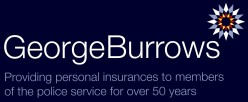 DAY THREE: The expected sunny weather continued as the squad sailed into Portsmouth with an expected BP victory also predicted. Russ Bryan won the toss and elected to bat on a piece of turf at the furthest edge of the square. The procession that followed was not predicted and the editors notes read:- Gray (1) slog, Midgley (15) slog, Taylor (5) slog, Roe (5) poor run out, Bryan (4) slog. So BP were 88 for 5 wickets in an hour and a half. The short hand making the point that Ted Roe apart four batters had gone to poor cricket shots. Ray Doyle however stood alone and made his 7th BP 50 (97 minutes, 69 balls) before falling 10 runs short of a century - his 90 coming in just over 2 hours in 96 balls. The total 151-6 in the 29th over leaving the tail to try and salvage a score to bowl at. Thankfully four of the last 5 reached double figures with Alex Pockett making 35 before another poorly judged run saw his demise. So in 2 out of 3 games BP were grateful to the tail. Last man Andy Sidgreaves made 10 not out, his highest BP score and continued his run of 'red inkers'! Dale Quiney (12) was the final wicket to fall at 220 becoming the 1,400th BP wicket to fall!
The reply saw Bridgen race to 22, all in boundaries (4x4 and 1x6) before he nicked one to Russ Bryan at second slip off Dave Morrell (26-1). This brought Evans to the crease and he certainly dropped anchor and proved unsinkable! He scored 37 out of 67 for the 2nd wicket when Ray Doyle held Charles (17) from a skier off his own bowling, then 23 out of 37 for the 3rd before Robbins (10) was bowled by Gareth Morris. BP finally started to get their act together with Ray Doyle holding a sharp overhead chance at slip off Dave Morrell (146-4) to dismiss Parker 7. The keeper Maytum (0) was well held by Gareth Morris slashing Ted Roe to point (153-5). Storey joined Evans and took the attack to BP smashing 28 (6x4's) off 20 balls pushing the board to 190-6 before Russ Bryan disturbed the bails. 2 runs later Dale Quiney had O'Keefe (0) caught smartly by Ray Doyle in the slips (a record equaling 3 outfield catches in an innings). 4 runs later Russ Bryan bowled Turrell (1) and the 9th wicket fell on 200 to Quiney who had Cox (0) lbw. Good fortune seemed to be smiling on BP with the Navy still 21 runs from the finish line. However those runs were brilliantly picked off by Evans, who in the process deservedly reached 104 not out with 12x4's and 3x6', in 173 minutes from 105 balls, as his side finished on 226 for 9 wickets. The Royal Navy had secured a great 1 wicket victory over BP, only their 8th win in 37 attempts!
The George Burrows Man of the Match award was presented to Evans by the sponsor Rob Constable
For the final scorecard please visit
http://www.pitchero.com/clubs/britishpolicecc/teams/114071/match-centre/0-2789096
http://britishpolicecc.play-cricket.com/website/results/2375378