Your current location:
British Police v Royal Air Force at Vine Lane, Uxbridge, Middlesex on Friday 3rd July 2015 Sponsored by Police Mutual
British Police v Royal Air Force at Vine Lane, Uxbridge, Middlesex on Friday 3rd July 2015 Sponsored by Police Mutual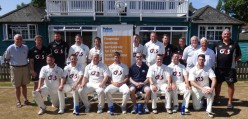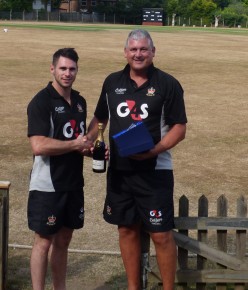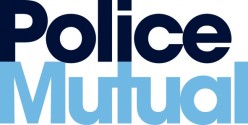 DAY FIVE: The hot sunny weather returned for the last game of the week at Vine Lane, Uxbridge with the Royal Air Force winning the toss and batting. From the first ball BP seemed to be in a determined mood, anxious to end the week with a success. In the 5th over Diver (4) played on a Dave Morrell delivery 20-1, Wray (20) who had been dropped at 2nd slip off Morrell edged again only this time to be held at 1st slip by Ray Doyle off Barry Stewart 30-2. In the 19th over McGeorge (30) was held thanks to a diving low catch by keeper Alex Pockett from Dave Morrell 79-3. Oliver (12) departed with Duncan Midgley taking the catch in the gully region off Andy Sidgreaves 92-4. Sidgreaves struck again with the score on 140 with Alex Pockett hanging on behind the stumps. He was joined one run later by Cross out lbw first ball to Mick Martin. Adcock in at 5 had been accumulating steadily and with his captain Iago and taken the score to 202 before being caught by the diving Richard Jackson off Ray Doyle for 75 (7x4's). The tail was then swiftly dispatched with Duncan Midgley taking two well-judged catches off Mick Martin, split by a run out throw from Ray Doyle. Duncan Midgley joining the 3 outfield catch club! The final total 213 all out.
Will Evans opened the batting for BP and carried his bat for an outstanding 138 not out. He scored what must rank as one of the finest innings in the history of Police cricket. He scored 50 in 36 minutes from 29 balls and accelerated before completing his century in 69 minutes from 54 balls. He hit the winning run with a six giving him 138 runs in 92 minutes from 73 balls. There were 23x4's and 5x6's a staggering boundary total of 122! Not a chance was offered and he was utterly merciless in exacting full value for his shots which were a full array of quality strokes. He was in remarkable form and was impossible to bowl at. This innings was up there with anything Malcolm Roberts, Graham Shaw or David Fraser-Darling have accumulated, it was that good.
Oh by the way he figured in a stand of 37 for the first wicket before Ray Doyle (6) was caught off a skier, then a partnership of 96 with Mick Martin (25) who drove back to be caught and bowled by Iago. Another 64 runs were put on in just 27 minutes with his North Wales partner, Duncan Midgley (25) who faced 13 balls and was caught off McGeorge.
So BP finished the week on a high with a 7 wicket win, but this was Will Evans match and he walked away with the Police Mutual Man of the Match presented by Beefy on behalf of Mike Farmer.
CLOSE OF PLAY:
Off the field 'BP 2015' were a pleasure with a great team spirit, camaraderie and togetherness within the camp. A slight criticism is that their post-match 'rituals' may have inadvertently diverted hospitality away from the opposition and host clubs. The 4 new boys all settled in well and contributed showing just glimpses of their ability.
On the field BP needed more consistency from the batting. In two of the 5 games the scoreboard read 84-6 and 88-5, needless to say in both those games losses were suffered. There was only one 50 plus opening stand and just one stand in excess of 100. It could be argued that certain ever present 'stella' players should where possible retain set positions in the batting order to provide a spine to the innings. The attack only bowled one side 'all out' – the RAF on the final day. The inability to bowl on one side of the wicket was disappointing and the theory that bowlers were trying too hard doesn't really hold water! BP conceded a staggering 110 runs in the wide column, resulting in 83 additional deliveries almost 14 extra overs.
It's tough at the top!......
Last season Ray Doyle and Gareth Morris were perched on the top of the respective all time batting and bowling averages.
2015 saw them drop beneath Malcolm Roberts and Harry Hanover, showing what great acts they have to follow and the difficulty in continuing to maintain such high standards.
Highlight of the week was without doubt the fabulous knock of 138 not out from Will Evans.
As always BP wish to thank our opponents in the 'BP Cricket Week' for going out of their way to provide top representative cricket in these testing times. Thanks to all the officials for their time and dedication. Thanks to the clubs and committees for allowing us to use such wonderful ground facilities. Thanks to everyone behind the scenes at all the venues.
Finally - Thanks to all the sponsors especially G4S who have committed to a further 5 years as BPCC Main Sponsor.
Also thanks to our Match Sponsors, Arc Legal, Totemic, George Burrows, Stuart Canvas and Police Mutual.
It is your valuable support that enables this cricket wicket to remain such a high point on the amateur cricket calendar.
Peter Mitchell BP Scorer/Statistician
For the final scorecard please visit
http://www.pitchero.com/clubs/britishpolicecc/teams/114071/match-centre/0-2789098
http://britishpolicecc.play-cricket.com/website/results/2375469