Your current location:
Police Mutual doing more than ever for the police family
Police Mutual doing more than ever for the police family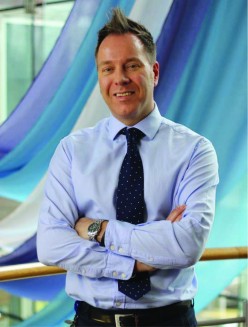 Stephen Mann, Police Mutual Group CEO
As a not for profit organisation with improving the lives of the police family at its heart, we pursue a "virtuous circle" of strong financial performance which enables us to give back more to those that put their lives on the line to keep us safe. Our results prove that you can both do the right thing and be a strong performing business with record member numbers. We have recently released our 'Making a difference to Police and Military lives' report which tracks over 70 indicators across the four elements we identify as contributing to wellbeing: financial, physical, mental and community.
Financial wellbeing
As a financial services provider we know that financial security is central to a person's overall wellbeing, and that positive contributing factors include building up and making savings and avoiding debt. As a result of this we deliver free financial education courses, which helped around 20,000 members of the Police family with their finances last year. In 2016 92% of course attendees said they felt better equipped to make financial decisions for their future, nearly 4,000 new members started the savings habit and in total we saved members £794,000 on their mortgage advice fees. A member with a typical bundle of Police Mutual products will have saved over £1,600 last year.
Physical wellbeing
People think that being a police officer is a job that keeps you physically fit but even it does, it comes with stresses and strains. For others, escaping the pitfalls of today's sedentary lifestyle remains a challenge. We understand the importance of physical wellbeing and the importance of remaining fit and healthy. Our approach is to help members prevent serious future health concerns by funding free mobile health screenings (4,100 in 2016) which saw 83% say they are very or quite likely to take action as a result.
Over 40,000 people are active users of our free Wellbeing Zone that encourages members to increase their exercise levels for example. Our 16,000 Healthcare members typically complete their hospital treatment 14 weeks earlier than they would have on the NHS and for police officers who have been adversely affected by traumatic incidents we also fund respite breaks (helping 520 families since 2012). One recipient commented, "the respite provided my partner and me with quality time to spend together which we had not had in many months. It was our first break away since I suffered my injury on duty. The respite re-energised us and allowed me to return to work feeling fresher and with renewed energy."
Community wellbeing
Beyond the individual, family and friends, we know that wider and workplace communities are also vital for wellbeing. The community work that officers and staff do in their own time also makes them feel good about what they do. In 2016 we donated £100,000 to 1,103 Force for Good community wellbeing projects around the country, and our BeFit4Life roadshow delivered free financial education sessions, mobile health screenings and mortgage advice surgeries to over 14,500 Officers and Staff across 28 stations.
Mental wellbeing
This is just as important at the physical side and so we work extensively with stakeholders and individuals to put mental wellbeing firmly on the agenda. We also run a range of interventions including funding patient advisers in the Police Treatment Centres in Harrogate and Scotland and funding a trained counsellor for the North West Benevolent Fund Lodge in Lancashire. In addition we also support the development of a Mental Health Champion Network and fund educational programmes on mental health awareness and mindfulness. We have also developed a wellbeing toolkit to enable managers to better identify and manage their own and others wellbeing with over 5,000 being issues so far.
We know that those who put their lives on the line to keep us safe have jobs like no other, and we want to show our support for that in the fullest way possible. We do this by building a mutual organisation that focuses entirely on improving the lives of the police family. It is important that we measure our progress in achieving our targeted outcomes of making lives easier, happier and longer. Our annual "stock check" gives a clear picture of the difference we made in 2016 but there is more can do and we are very much looking forward to delivering against this challenging benchmark in 2017.
To view the full 90 page 'Making a difference to Police and Military lives' report visit the Police Mutual website.