Your current location:
Huge success for Missing People conference
Huge success for Missing People conference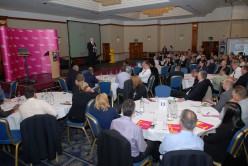 A conference organised by the charity Missing People has been deemed a huge success.

The event was attended by 200 delegates, and included senior and practitioner level officers from most of the UK police forces. There were also delegates from as far afield as Ireland and Australia.

Key topics covered included missing children, asylum seekers, missing from NHS establishments and what happens when a missing person case turns high profile.

Feedback was that the programme was comprehensive and relevant and networking opportunities were fantastic - the charity has since been able to put delegates in touch with other delegates with a view to taking these relationships further and developing new strategies.

Many delegates commented that the overriding benefit was the networking opportunity the conference provided, as there is currently no other forum for officers working in this line of work to gather with colleagues nationally to share information and exchange views.

One session which was considered particularly useful was an onstage discussion between police family liaison officers, a case manager from Missing People and family members of a previously missing person. One officer commented that this was "most thought provoking and emotive, it bought home just how important it is to give thought to every aspect of family liaison. It was very good to hear about the support Missing People can give in this area."

Geoff Newiss, Head of Policy and Research at the charity, used the conference as a platform to reveal details of the Missing People research programme. "At present there is still little in the way of scientifically reliable information on the numbers of children and adults going missing, why they go missing, their experiences whilst away, and the impact on those left behind. Missing People's research programme aims to fill these knowledge gaps," he explained.

According to Andrea Bennett, Public Sector Communications Manager for Missing People, the conference was a huge success. "Feedback has been overwhelming positive. Officers are already registering their interest for the next one!" she said.

For more information on the work of the charity Missing People (formerly National Missing Persons Helpline) visit
www.missingpeople.org.uk.