Rewind Technique: A Potential Therapy for Trauma in Police Officers? By: Lyanne Pudney MBACP
Rewind Technique: A Potential Therapy for Trauma in Police Officers? By: Lyanne Pudney MBACP
Wednesday, 06 July, 2022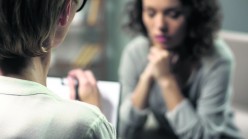 Police wellbeing is a regular topic covered in Police Life newspaper and our magazine Metropolitan Life.
During the last 12 months we have provided information to improve police wellbeing. We have reported on initiatives from organisations such as Oscar Kilo, The Police Federation, The Police Superintendents' Association and others. We have also highlighted several surveys demonstrating that more needs to be done.
Clearly frontline police officers are exposed to high levels of trauma and stress which was further exacerbated by the COVID-19 pandemic.
The Rewind Technique
Lyanne Pudney is a private therapist with a special interest in PTSD.
Previously she has worked in the police and fire service and has witnessed first-hand the psychological impact of working on the frontline.
Lyanne now works with clients from the police and other emergency service workers engaged in frontline duties and is also studying for a master's degree in counselling and psychotherapy at Bath Spa University.
There are many intervention techniques to help with trauma. Lyanne is particularly interested in a technique known as "Rewind".
Lyanne writes...
Have you experienced the rewind technique yourself? I am undertaking a qualitative study as part of an MA in Counselling and Psychotherapy and would like to hear from any readers who have been treated using rewind therapies to understand their experiences and its potential as a treatment for frontline staff.
Rewind Technique: What is it and why use it?
The Rewind Technique (also referred to as RWT) is an exposure-based intervention used in treating PTSD and Phobias. It is notable because of its non-distressing nature, despite it being an exposure-based method, and because it is reported as being successful in as little as one session.
It is an anecdotally effective short-term treatment, which is commonly used across protocols developed by individuals and organisations with numerous versions available.
The rewind technique has been in use since it was developed by the founders of Neurolinguistic Programming (NLP) (Bandler and Grinder 1979). They called it Visual Kinesthetic Dissociation (VKD) and it has since been further developed by Dr David Muss (The Rewind Technique), Human Givens Institute (Rewind Technique), The Research and Recognition Project (Reconsolidation of Traumatic Memories) and in general within the field of NLP (Fast Phobia Cure).
Evidence has been widely anecdotal, although research is beginning to build a body of evidence, as awareness has increased over the last two decades. It is believed to work by reconsolidating the traumatic memory.
All versions involve asking the client to imagine watching and rewinding a film of a distressing event while in an induced dissociated state, usually after a period of relaxation. Importantly, before this is done they are asked to identify a point beforehand that they were safe and after the film that they knew they had survived the traumatic experience and were physically safe. This seems important in updating the memory because without understanding that they are safe now, reconsolidation would not be achievable, hence clients with PTSD who are still in danger would not be likely to benefit from the intervention.
Through guided visualisation, they imagine watching themselves from behind (in a movie theatre or from behind in other settings), watching a film of the traumatic memory. The therapist asks them to rewind the film, changing various things such as colour, sound, contrast etc. and repeats until the client is able to experience the memory fully without accessing the emotional distress usually triggered by this.
RWT is low cost due to the low number of sessions needed, usually between 1 to 5 and can be used without prolonged disclosure of the distressing memory, which addresses time constraints due to shifts, budgetary limitations and low help seeking in the emergency services.
Interested in participating?
Participants will be asked to take part in an interview via video call, which will be recorded with your consent, then typed up into an anonymised transcript. The video and transcript will be securely destroyed at the end of the study.
• If you have experience of Rewind and would like to take part in the study contact Lyanne:
e: lyanne.pudney18@bathspa.ac.uk or
Tel: 07748 371514 for a no pressure chat.