New Clinical Services Wing opens at Police Treatment Centres
New Clinical Services Wing opens at Police Treatment Centres
Friday, 05 November, 2021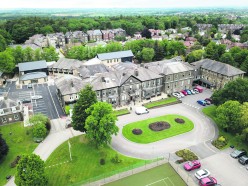 In 2016, the Clinical team, lead by Head of Clinical Services Mark Oxley, created a groundbreaking Psychological Wellbeing Programme specifically designed to deal with the stresses that Police Officers will encounter day in, day out on the beat.
The creation of the new class leading Psychological Wellbeing Programme came on the back of increased demand for psychological support emanating from Officers in attendance at the PTC on the Physiotherapy Programme. Whilst on every occasion the nursing team dealt with these issues accordingly, it brought into sharp focus the requirement for a tailor made, Police specific Psychological Wellbeing Programme.
With this in mind, the Psychological Wellbeing Programme was designed and structured around a range of group workshops over the residential period. These group workshops are not group therapy sessions but rather standalone workshops created to target stress triggers encountered everyday in Force. The workshops include Stress Awareness, Coping Strategies, Mindfulness, Healthy Eating and Sleep among others. The Sleep workshop is one of the most beneficial to our Patients as officers currently embark on some difficult shift patterns and the ability to obtain high quality sleep no matter what time of day or night, is crucial in maintaining a high level of mental health throughout a long career.
In addition to these group workshops, the Psychological Wellbeing Patients are also offered three to five sessions of one to one counselling. The counselling approach used is called solution based, brief therapy and is used as the counsellors know that they are not going to see these Patients for an extended period over many weeks. This means they quickly need to identify the Patient's mental health requirements and build a solution with these sessions. Following this, if they identify further need for Patient support, counsellors will endeavor to signpost patients, whether this be through Force, NHS or private means.
Patients participating on the Psychological Wellbeing Programme also have access to the centre's leisure facilities and a range of exercise classes including Pilates, Tai Chi, Yoga, Box Fit and many more. It is widely known that mental health is beneficially influenced by physical exercise and giving the patients a chance to develop a fitness plan that they can continue away from the centres is a crucial part of the programme.
Finally, and highly popular with all of our Psychological Wellbeing Patients is the complementary therapy available at both centres. Reflexology, Massage and Aromatherapy are available to all of our Psychological Wellbeing patients and enabling Officers to unwind completely from the stresses of everyday life is a key component of our two-week programme.
Maria Fox, Superintendent with the West Midlands Police Force, spent two weeks at the Police Treatment Centres in Harrogate recently following a number of issues that meant working was becoming increasingly difficult.
"During my stay at St Andrews, I benefited from a number of classroom-based sessions that enabled me to contextualise and properly understand my journey. These sessions also taught me some useful coping strategies, creating the space to step back and reflect on my struggles and all I have been through. I also feel positive that I will be able to integrate these strategies into my day to day life so that I am able to thrive and maintain resilience."
Following the introduction of the Psychological Wellbeing Programme in 2016, demand has steadily increased. This has meant that in turn, the requirement for both increased capacity, but equally, a purpose built Wellbeing facility, were at the forefront of the Police Treatment Centres plans moving forward. To meet this need and in partnership with Police Care UK, the Police Treatment Centres has established a brand new £5 million Clinical Services Wing, officially opened on the 22nd of June 2021. This has enabled the Police treatment Centres to progress with the Psychological Wellbeing Programme, gaining the purpose-built facilities that such a class leading provision truly deserves.
The new build comprises two new wings with two floors containing twenty bedrooms, four counselling rooms, one nursing surgery and office space, six complementary therapy rooms and three workshop spaces.
The new Clinical Services Wing also enables the Police Treatment Centres to offer the use of a dedicated Conference Room facility which includes state of the art:
Smart Board
LCD Projector
Air Conditioning
Free wi-fi
Free Parking for Delegates
Catering Options Available
Optional Break Out Rooms
To have a look at our new Clinical Services Wing, view our virtual tour here - (11) Virtual Tour St A incl New Wing - YouTube.
• For more details on how to book the PTC Conference Room facility for your business or organisation, please contact reception on 01423 504448 or email
enquiries@thepolicetreatmentcentres.org.