Liverpool Inspector marks 80-year Blitz anniversary
Liverpool Inspector marks 80-year Blitz anniversary
Friday, 11 June, 2021

• L to R: PC John Edward William Uren, George Medal.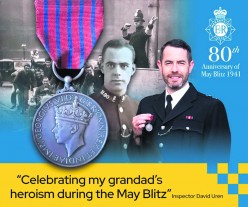 • Liverpool Community Policing Inspector Dave Uren
May marked 80 years since Liverpool was bombed during the May Blitz, and Liverpool Community Policing Inspector, Dave Uren is commemorating the anniversary by reflecting on the heroic actions of his late Grandfather.
The bombings, which took place between 1-7 May 1941 during World War 2, resulted in many deaths and injuries, and destroyed homes and infrastructure across Liverpool. The German Luftwaffe targeted the city in what was the most concentrated series of UK air attacks outside of London.
During the bombings, on May 3, 1941, four men, including three Liverpool City Police officers, rescued a man trapped under debris on Cornwallis Street, after an air raid building was demolished by enemy action. Those men were Sergeant Christopher John Gartland, PC Herbert Frederick Collier Baker, Thomas Tolen (member of the A.R.P rescue party) and PC John Edward William Uren, Inspector Uren's Grandfather.
Following the collapse of the building, the four men entered the wreckage in complete darkness, where they found a firewatcher, trapped, and almost buried under the debris. After moving some of the wreckage, a large wooden beam directly over the trapped man appeared about to collapse. PC Uren got under the beam supporting it with his shoulder for a considerable amount of time, before PC Baker joined him, and the others worked to free the trapped man. After over an hour, the man was freed, and PC Baker got away from the beam. However, due to the great weight, PC Uren was unable to, until Sgt Gartland took hold and pulled him free as the upper floor collapsed.
Liverpool Community Policing Inspector Dave Uren said: "Although this marks a sad period of Liverpool's history, my family and I are extremely proud to commemorate my Grandfather and his colleagues' heroic actions to save a life and be awarded the George Medal for gallantry. I'm aware that this act of bravery had a cost for my Grandfather as he sustained a spinal injury which stayed with him until he passed aged 60."
"My Grandfather was also awarded a bronze Liverpool Shipwreck & Humane society medal for stopping a pair of runaway horses with laden wagon hurtling down London Road towards pedestrians. Strangely my other Grandfather who also served as a Police Officer in Bootle Borough Police in the 1950s, PC John Wightman served was also commended for a similar act of stopping a runaway horse drawn laden wagon in Bootle."
"Both my Grandfathers were my inspiration for joining Merseyside Police and I have taken great pride and been fortunate to follow in their footsteps and serve the communities of both Sefton and Liverpool."