Protecting people and infrastructure through partnerships
Protecting people and infrastructure through partnerships
Wednesday, 13 November, 2019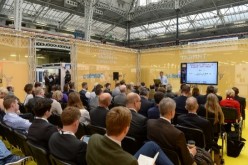 The UK's leading national security event ExCeL London, 19 - 21 May 2020
Now in its 12th year, the Counter Terror Expo (CTX) has established itself as the UK's principal business and networking event for security professionals from industry; infrastructure; government and policing.
Counter Terror Expo's relationship with the Home Office, UK policing and industry makes it the market-leading event for suppliers of high-end security and counter terror products; services and solutions.
Every year CTX brings together thousands of senior security professionals from over 100 countries to learn, benchmark strategies, network and explore innovative technologies from around the world to improve national security and aid in the fight against terrorism.
It's where you can hear from top tier international speakers, earn CPD accreditation for your conference attendance and gain insight into the latest technologies and products.
An overview of Counter Terror Expo 2020:
CTX 2020 will bring together hundreds of leading suppliers and over thousands of global senior security professionals representing a comprehensive range of sectors: Government, Private Sector, Critical National Infrastructure, Defence and Military, Law Enforcement, Transport Security, Border Security, Security Services, Crowded Places/Major Events and Emergency Services.
The event will provide plenty of networking opportunities for likeminded industry professionals to discuss security issues, gain valuable insights and forge new relationships. CTX 2020's conference programme revolves around its core themes of protecting people and infrastructure, policing, counter extremism and de-radicalisation. The content is carefully chosen to attract and engage high-level UK and international buyers of counter-terror products and services.
In addition to the free-to-attend conferences, the internationally-renowned World Counter Terror Congress (WCTC) provides a platform for global experts to share national updates on counter-terror strategy, operations and policy, examining the key areas of Prevention, Pursuit and Protection from international terror threats. WCTC will bring together over 200 internationally recognised security experts at a closed door, paid-for conference as they seek to find the strategic and operational approach to fight terrorism.
Here is just one of your peers on why he holds our show in such high regard:
"The show is well presented; good displays and the people here are very knowledgeable - a good event in all. It is a high-level show, attracting the right professionals. The speakers have been brilliant so a very worthy and good exhibition." Said Michael Handley, Director Corporate Risk Specialist Services, MHG.
In 2020 CTX will co-locate for the first time with IFSEC International creating the UK's largest security event which will now take place over three days. This co-locate will:
Bring together over 30,000 visitors
Extend to a three-day show providing you more opportunities to learn, network and explore new technology
Congregate the entire security community under one roof including CTX, Ambition, the EPRR expo, Forensics Europe Expo, IFSEC International, FIREX, Safety & Health Expo and the Facilities show.
Save the date in your diary for CTX 2020, taking place on 19-21 May at ExCel London.
Register your interest at www.ctexpo.co.uk and be the first to know when registration opens. Don't miss out on the largest gathering of senior security professionals from Law Enforcement, Government to the Private Sector gathered under one roof.
To exhibit at CTX contact the team directly on
Tel: +44 (0)20 7384 8232 or
Email: sales@ctexpo.co.uk.