British Police CC 2019
British Police CC 2019
Monday, 05 August, 2019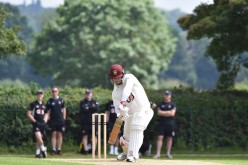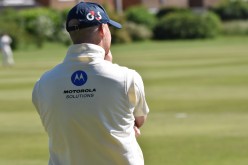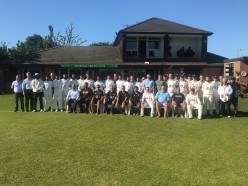 British Police CC came together in the heart of Robin Hood country on the outskirts of the City of Nottingham for the 2019 Tour. There were 5 planned fixtures, one in rural Lincolnshire with the remainder in Nottinghamshire for Mick Martin & his merry men to navigate.
MONDAY v LINCOLNSHIRE DEVELOPMENT XI
It was a cloudy humid day when BP travelled across the flat Lincolnshire countryside to the delightful Woodhall Spa for a new fixture on the Tour Week versus a Lincolnshire Development XI.
A warm welcome was given to Ian Dowling our new Sports Therapist who when offering his services probably didn't realise, he would be the busiest member of the Touring Party.
It has recently been the norm to welcome new players to the fold but a total of 7 provided the biggest turn over in staff ever recorded. All of them were included in this 1st line-up with Mick Martin losing the toss & invited to bat.
The youthful Lincs side had early rewards with the Police 2 down for 28 in the 7th over.
Opener Scott Campbell of PSNI was then joined by Mick Martin (51) and they put on 71 before Campbell (61) shelled one to Nydmbu who hung on 99-3.
Scott Campbell became the 19th BP player to reach 50 on debut (69 balls 93 minutes) with 6x4's & 2x6's.
BP chugged along with Durham's Sean Tindale (17), PSNI's Simon Olphert (18) & the Mets Niall Burke (13) helping BP reach 203 from a rain effected match reduced to 45 overs.
"Must Get Out More Mitch!
When Mick Martin completed the 44th run of his 50 in the 38th over he scored the 44,000th BP run - contributing to a stand of 49 for the 6th wicket with keeper Simon Olphert..
Stuart Drakeley of Kent came up with a unique piece of history that cannot be beaten.
He became the 15th BP batsman to record a duck on debut but his record is he was run out without facing a ball.
In response Sean Tindale & Niall Burke opened the attack for the police & looked a potent force, tearing into the Lincs top order reducing them to 39-6 inside 15 overs.
Tindale bowled 6 overs 2 maidens 13 runs for 3 wickets, at the other end Burke recorded 6 overs 1 maiden 21 runs for 2 wickets.
A great start for BP held up by a frustrating 56 run stand between Ward (16) and Lincs captain Nydmbu (37).
Once home defences had been breached the visitors finished off the job with Craig Grimley taking 2-27 & there was a wicket a piece for Scott Campbell, Mitchell Harris & Ted Roe.
In the field Simon Olphert held 3 in the gloves with Shaun Smith catching two top class chances in the field.
BP the winners by 87 runs with plenty of positives to take from the day.
Having spent most of the day watching the match Bill Skelly (Lincs CC) presented the MoM award to Scott Campbell.
BPCC 203-9
Scott Campbell 61
Mick Martin 51
Lincs CCC XI
116 all out
Sean Tindale 3-13
Niall Burke 2-21
Craig Grimley 2-27
TUESDAY v ARMY
This match scheduled for Calverton CC, where Beef ended his Club playing career, was cancelled overnight following heavy rain without a ball bowled.
This day off led to team bonding reaching new heights with the players going to Colwick for a late morning "Dogs" meeting whilst the Management and Officials took up residence in Langtrys for the WC fixture between England and Australia at Lords.
WEDNESDAY v ROYAL NAVY
It was cloudy and a bit chilly when Mick Martin lost the toss and found his side fielding at Farnsfield CC another one of Beefs old "stomping" grounds back in the mid to late 80's.
Monday repeated itself as Sean Tindale and Niall Burke once again steamed in to submerge the Navy at 48 for 7 wickets.
Opener Parker (26) was 6th out, the only top order double figure scorer.
Tindal & Burke had 2-22 & 2-24 respectively helped by Scott Campbell who spun 4 for 35.
The Navy finally making 'Nelson' 111, thanks to tail end resistance from Clarke (28), veteran Piers Moore (16) & Bobb (15).
Dean Skelton held his first victim behind the stumps with two caught by Craig Grimley (Notts) with Shaun Smith taking two more catches for the cameras.
The reply saw 88 posted before the loss of Craig Grimley (29) on his home Nottinghamshire patch, followed by Ted Roe (1) run out going for a second – the Navy still had their chances with the Police struggling for form.
There was time for another wobble with Shaun Smith out for 50 a maiden half century including 5x4's, 3 runs short of the win.
BP won by 7 wickets – the first consecutive wins since 2014.
MoM presented by Graham Shaw was Shaun Smith
(218) BRITISH POLICE v ROYAL NAVY at Farnsfield CC, Nottinghamshire on 26th June 2019
BRITISH POLICE WON BY 10 WICKETS (R Knowles/P Mitchell)
Royal Navy 111 all out
Sean Tindale 2-22
Niall Burke 2-24
Scott Campbell 4-35
BPCC
114-3
Shaun Smith 56
Craig Grimley 29
THURSDAY v NATIONAL ASIAN CRICKET CONFERENCE
It was a glorious day when BP pitched up at Hucknall in Nottinghamshire, the birthplace of "Stato" and the resting place of Lord Byron!
This was also the nominated Sponsors and Committee Day so we were joined by representatives from G4S, Motorola Solutions, Arc Legal, George Burrows, Uberfone, NARPO and Eco Fire Safety along with the Chairman Simon Cole (CC Leics), Vice Chairmen Lee Freeman (CC Humberside), Chris Noble (ACC Humberside) and Jav Oomer (Ch/Sup. Staffs) plus other members from the Committee.
Mick Martin lost his 3rd toss in succession in this inaugural fixture with NACC who decided to bowl first.
Jabba Atiff (3-58) and Fazal Wazeem (4-20) opened the bowling with pace and accuracy, the first spell resulting in 29-3 after 9 overs.
Mick Martin (37) & Sean Tindale dug in to put on a fightback in a stand of 55 before the loss of the skipper. Sean Tindale having had a successful week with the ball showed his talent with the bat against top opposition, becoming 7th man out on 173, his total 69 with 7x4's & 1x6.
His maiden 50 coming from 59 balls in 90 minutes.
In all 5 further BP players reached double figures, Shaun Smith 10, Duncan Midgeley 24, Simon Olphert 13*, Stuart Drakeley 10, & Mitchell Harris 10 but none going on to a score having got a start with this lack of resilience giving a total of 215 all out in 48 overs.
The Asian Conference never looked in trouble with stands of 77, 25, 92 & 17 taking them to the required total.
Mansoor Zahid top scored with 97 (11x4's, 6x6's) before he was caught in the deep gleefully by Mitchell Harris off Drakeley.
They didn't know it but this was the 1,650th wicket taken by BP. (Mitch must really get out more!) Bazny Saqbain (31), Muzahar Ali (48) & Mohamed Ali (17) all got starts, with Drakeley, Harris and Campbell taking a wicket each.
NACC comfortable winners by 6 wickets with Zahid earning MoM presented by Mark Singh from Uberfone.
Royal Navy 111 all out
Sean Tindale 2-22
Niall Burke 2-24
Scott Campbell 4-35
BPCC
114-3
Shaun Smith 56
Craig Grimley 29
FRIDAY v BASSETLAW LEAGUE XI
Another hot sunny day saw BP arrive at Thoresby Colliery CC within a mile of the Major Oak and the centre of Nottinghamshire's Sherwood Forest. It was a weary outfit who took the field on this the last day of the tour with only 12 players remaining from the initial 16 selected.
The previous evening was the now ritual team dinner which was attended by 50 players, officials, Sponsors and Committee who were catered for by Laguna Restaurant – the oldest Curry House in Nottingham. An excellent way to round off the day.
The Bassetlaw League has been a stronghold of cricket in the North of Notts, featuring clubs from adjacent borders with Derbyshire, Lincolnshire & South Yorkshire. They are now one of two feeder leagues into the Nottinghamshire Premier League.
Bassetlaw dominated proceedings from the off and raced to 268 for 3 wickets from the allotted 40 overs.
Dutton 88 (11x4's, 1x6) and Istead (26) putting on 54 before the latter was dismissed. Waqas came in to amass a 2nd wicket stand of 138 before Dutton went. Waqas was 3rd to go on 94 bowled by Scott Campbell, his innings lasted 88 balls in 101 minutes with 9x4's & 4x6's. That 3rd wicket stand of 53 assisted by Cooray (34*).
BP replied losing wickets at regular intervals and were dismissed for 165.
Mitchell Harris going in at No.4 top scored with 63 (7x4's, 2x6's) in 57 balls. There were hard fought contributions from Scott Campbell (23) & Duncan Midgeley (27) with Mick Martin (10) also making double figures.
The Bassetlaw League were winners by 103 runs.
Eco Fire Safety MoM presented by MD Jason Gorman went to Alex Dutton
(220) BASSETLAW LEAGUE REP XI v BRITISH POLICE at Thoresby Colliery CC, Nottinghamshire on 28th June 2019
BASSETLAW LEAGUE REP XI WON BY 103 RUNS (Bassetlaw Umps/P Mitchell)
Bassetlaw League XI 268-3
Dutton 88
Waqas 94
BPCC 165 all out
Mitchell Harris 63
Duncan Midgley 27
Scott Campbell 23
FOOTNOTE
Two consecutive wins for the first time since 2014 when there was a 3-2 series result, together with a 2-2 series result must be regarded as an improvement - following 2018 1-3, 2017 1-3, 2016 1 abandoned game & 2015 2-3.
There were many plus points from the 2019 squad with several of the new caps making significant contributions. There was definitely a more positive attitude around the playing squad and the signs are once more there that BP can begin to make a return towards the heights they achieved previously.
Perhaps the announcement by the new PM that the 20,000 officers lost since 2010 are to be replaced might also have an impact on BPCC and Police Sport in general.
MITCH MUST GET OUT MORE
The last BP batsmen to figure in a 100 stand were Scotland's Alan Davidson (79*) & James Adkin (58) of Surrey – they put on 105 for the 6th wicket at Sunbury versus the Royal Navy in 2017.
It was 2015 now over 4 years ago since a century was scored by a BP batsman, when Will Evans of North Wales scored 138 against the RAF at Uxbridge.
It was 2014 when the last 5 wicket haul was taken by a BP bowler. It was Ryan Watkins with 5-43 against the Royal Navy at Ockbrook & Borrowash CC. Earlier that year Richard Jackson the Leicester spinner had figures of 5-13 finishing off the Army at Sandiacre CC on another Derbyshire Ground.
SPONSORS
Once again, a huge thanks for the support from our Sponsors.
G4S have supported us since 2009 and have pledged to continue until 2021.
Motorola Solutions became a new additional kit sponsor also pledging their support until 2021.
Match Sponsors Arc Legal & George Burrows have supported us since 2009.
Uberfone joined when BP to the Tour to Northern Ireland in 2016.
NARPO and Eco Fire Safety joined this year as new Match Sponsors ensuring that all 5 fixtures were supported.
Without their financial assistance BPCC would not be able to continue in its current format. Long may their support continue so long as "we" strive to provide a quality product for them to Sponsor.
Subject to Sponsorship 2020 should see the new BPCC Ladies Team in action.