Better support for ill-health retirees launched by Police Care UK
Better support for ill-health retirees launched by Police Care UK
Friday, 26 July, 2019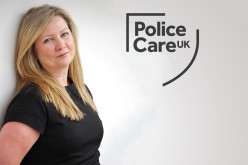 • Police Care UK Chief Executive, Gill Scott-Moore
A new peer-support programme for those subject to ill-health retirement is being piloted across the North-West by the charity Police Care UK following feedback from serving and veteran police officers that a service was urgently needed.
The programme, which is piloting across Cheshire, Merseyside, Greater Manchester, and Lancashire force areas, was supported and developed with Sir Peter Fahy QPM, former Chief Constable at Greater Manchester Police. Speaking at the recent programme launch, Sir Peter said, "I'm delighted that Police Care UK are launching this much-needed support programme for police veterans. Ill-health retirement is a very stressful and distressing process that leaves people feeling isolated, vulnerable, and distressed. The new peer-support programme will help to redress some of that and enable officers and staff to seek support from peers who understand what they are going through."
Pete Burnsall, a medically retired police veteran from Leicestershire, referred to his being thrown on the scrapheap following his ill-health retirement. He had much more to give but no idea about direction or way to move forward with his life. It was only through support from organisations like Police Care UK that he was able to recover and rebuild his life. Police Care UK Chief Executive Gill Scott-Moore said, "Ill-health retirement is a scary, daunting, and stressful period for anyone, and there are specific needs for those subject to ill-health retirement that the service is not in a position to be able to meet. By launching a peer-support initiative at Police Care UK that is independent of the service, people are able to seek assistance they need, from people who have been through it and understand what they are going through."
Initially piloting in the North-West, the intention is to expand the programme nationally over the coming years. Lead by Cheshire Police veteran Alan Fairclough, the programme is currently recruiting peer-support volunteers across the region. At the programme launch, Alan said, "Police Care UK has always looked to provide practical, emotional, and financial support that people need, and the veteran's peer-support programme is looking to extend the support available. Being an independent charity that receives no government or police funding means that we can provide the confidentiality that people want and need in order to rebuild their lives."
More information about the peer-support programme can be found by visiting www.policecare.org.uk/peersupport, and anyone wishing to find out more about becoming a peer supporter can go online to register or call 0300 012 0030.