Latest cricket fixtures released
Latest cricket fixtures released
Thursday, 23 May, 2019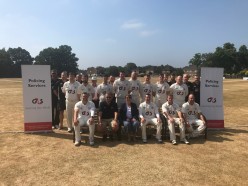 The 46th Annual British Police Cricket Club Tour Sponsored by G4S and Motorola Solutions will be based in Nottinghamshire & Lincolnshire from Monday 24th - Friday 28th June.
Fixtures are:-
Monday 24 -Lincolnshire CCC at Woodhall Spa CC
Tuesday 25 -British Army at Calverton CC
Wednesday 26 -Royal Navy at Farnsfield CC
Thursday 27 -National Asian Cricket Conference at Hucknall CC
Friday 28 -Bassetlaw League Representative XI at Thoresby Colliery CC
All matches commence at 1100 (50 overs)
The Thursday fixture is the nominated day for Sponsors and Committee.
Tour Party
Mick Martin (Gwent) Capt
Ryan Watkins (Gwent) V/Capt
AdamPhillips (Merseyside)
Andy Sidgreaves (Lancs)
Shaun Smith (Northumbria)
Alan Davidson (Scotland)
Sean Tindale (Durham)
Stuart Drakeley (Kent)
Duncan Midgeley (N. Wales)
Mike Samuel (S. Wales)
Ted Roe (Wilts)
Mitchell Harris (Gwent)
Dean Skelton (BTP)
Simon Olpheret (PSNI)
Matt Storey (Northumbria)
Jehinger Baig (W. Mids)
Officials
Ray Knowles (Umpire)
Neil Vaughan (Umpire)
Peter Mitchell (Scorer)
Ian Dowling (Sports Therapist)
Management
Dave Fraser-Darling (Tour Manager / Secretary)
Simon Young (Assistant Manager)
Graham Shaw (Assistant Manager)
If you have a spare couple of hours or indeed a day then please come along to support us. You will be made very welcome.
You can follow us on social media
FB - British Police CC
Twitter - @britishpolicecc
We also have 2 websites for more details
https://www.pitchero.com/clubs/britishpolicecc