Terror training partnership
Terror training partnership
Wednesday, 17 April, 2019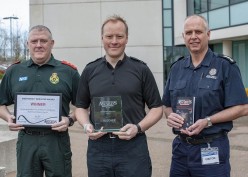 • Joint award- Northumbria Police, Tyne and Wear Fire & Rescue Service and North East Ambulance Service.
Emergency services from across the North East have received a national award for their approach to a terror training exercise.
Northumbria Police, Tyne and Wear Fire and Rescue Service (TWFRS) and North East Ambulance Service (NEAS) were recognised at the recent Counter Terror Awards for their emergency training exercise, which tested how the area's services would respond to an attack.
The exercise led by the Force was held on June 6 last year at the Metro Station Platform in Newcastle's Central Station. It was seven months in the planning and called on NEAS, TWFRS, metro operators Nexus, Public Health England, Network Rail, British Transport Police, Newcastle City Council and a host of other partners to come together and coordinate their response.
The scenario saw the emergency services respond to an explosion, with agencies tasked with locating suspects, protecting the public and rescuing casualties.
In the days that followed, the teams were put through their paces testing the ongoing recovery process which would be in place following an attack.
Assistant Chief Constable for Northumbria Police David Felton said he was delighted the hard work of all those involved had been recognised nationally, following the independent nomination.
He added: "While a terror attack is something no police force hopes they ever have to deal with, it is important that we take the right steps to make sure we are prepared and ready to respond in the most efficient way possible, if that time ever comes.
"We regularly hold pre-planned training exercises with services and other organisations to test our collective response to major incidents and offer reassurance to the communities we serve.
"I would like to take this opportunity to praise the hard work of all those involved. While we led the exercise, we did not carry it out alone and could not respond to an incident like this without the support and assistance of our partners in the public, private and voluntary sectors."
Andy Sessford, the lead planning officer at the North East Ambulance Service, said: "Training exercises are a vital part of our preparations for a major incident such as a terrorist attack. It means all the emergency services are better prepared to protect the public and help people affected by an incident."
TWFRS ACO Alan Robson commented: "It is great that Exercise Stephenson has been recognised at the Counter Terror Awards. Testing and challenging ourselves, our procedures and equipment are an essential part of our role. Participation in multi-agency exercises of this scale not only provides reassurance to our communities but deliver excellent learning opportunities for all emergency services involved."