HAIX to showcase elite emergency services footwear range at ESS 2018
HAIX to showcase elite emergency services footwear range at ESS 2018
Friday, 13 July, 2018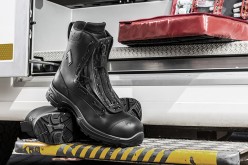 Attendees of The Emergency Services Show 2018 will be searching for high specification safety footwear that supports them at work. HAIX, global safety boot manufacturer, will be showcasing its latest innovations in emergency services footwear at this year's show, stand L77.
The HAIX tent will be exhibiting a range of products, including the Airpower XR1, Black Eagle Safety 50, Black Eagle Tactical 2.0 GTX; boots created for emergency services professionals, adaptable to various environments.
BLACK EAGLE TACTICAL 2.0 GTX HIGH
The Black Eagle Tactical 2.0 black GTX is the ultimate police boot with weatherproof leather providing optimum comfort and protection. The robust shoe is ideal for police officers whose working day consists of long strenuous hours on their feet. The innovatively designed shoe is equipped with 2-layer PU midsole, with shock absorption eliminating any pressure on the joints and spine.
The high specification shoe is also designed with fabric technology with a strong sole resistant to oil or petrol, GORE-TEX® technology and material isolated against the heat or cold.
AIRPOWER XR1
With high-slip resistance and superior comfort, the Airpower XR1 is the ideal choice for rescue and emergency services professionals. The waterproof and breathable boots are designed to provide optimum levels of safety whilst offering the wearer all day comfort. This high specification boot fulfils the requirements of safety category S3 and has an oil and petrol resistant sole, providing all terrain grip, and a protective, composite toe cap with steel puncture resistant midsoles.
Attendees will be able to experience the innovative technology behind HAIX footwear at ESS 2018. When visiting the HAIX tent, attendees will witness first-hand HAIX's technical expertise which exceeds safety standards and supports uniformed professionals throughout the emergency services sector.
• For more information, visit www.haix.co.uk/ems/