Crimestoppers and BOC launch campaign calling on transport and logistics managers to ban mobiles behind the wheel – including hands free
Crimestoppers and BOC launch campaign calling on transport and logistics managers to ban mobiles behind the wheel – including hands free
Thursday, 24 May, 2018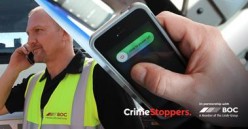 Transport companies urged to become Champions and join the scheme
The charity Crimestoppers and BOC, the UK and Ireland's leading industrial gases supplier, have joined forces to launch a campaign `Out of Sight, Peace of Mind' urging transport and logistics companies, and professional drivers, to stay off the phone when behind the wheel. The collaboration between the community safety charity and major fleet operator follows increasing concerns about the use of mobile phones while on the move.
Research published in the British Medical Journal shows:
You are four times more likely to be in a crash if you use your phone
Drivers using a mobile phone are slower to recognise and react to hazards
Even careful drivers can be distracted by a call or text – and a split-second lapse in concentration can result in a crash.
The campaign is primarily aimed at transport and logistics companies, but other organisations that employ large numbers of drivers are also encouraged to adopt the practice of banning all mobile phone use, including Bluetooth systems, when driving.
Rodger Holden, Director of Business Development at the charity Crimestoppers, said: "BOC sets the standard that others can follow in terms of taking responsibility for staff welfare and their actions when driving. They, like we, appreciate that drivers who are not distracted can avoid collisions that harm people, cost money, and damage company and personal reputations.
"We are reaching out to respected organisations like BOC to join us, champion this campaign and increase the number of companies adopting a zero tolerance approach to mobile use. Remember: a moment's distraction could be a lifetime's regret."
Road accident data suggests that drivers being `distracted in vehicle' contributed to nearly 3,000 (2,920) collisions in 2015. The campaign has the support of road safety organisations including the charities RoSPA, Brake and IAM RoadSmart.
Rob Bryson, National Transport Manager from BOC, added: "We introduced a zero-tolerance mobile phone policy over 10 years agoand have proven it's possible to be an efficient, successful company without needing to speak to our drivers whilst they are on the road – and that includes on a hands-free system.
"Nothing is more important than a person's life. We hope this initiative will have a wider influence in the longer term as more and more companies commit to champion the highest road safety standards."
If you would like to become a champion, please email Alex.Haughton@crimestoppers-uk.org and we will send you a media toolkit which will include collateral and digital assets.
More details about the campaign are available at the Crimestoppers website.