Key Opportunity to Collaborate with Other Blue Light Services
Key Opportunity to Collaborate with Other Blue Light Services
Wednesday, 23 May, 2018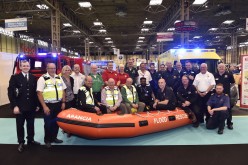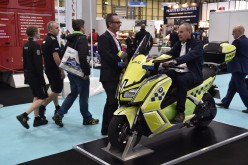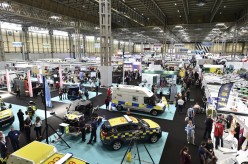 The Emergency Services Show, Hall 5, NEC, Birmingham, 19-20 September 2018
A valuable and unique opportunity to learn and network with other blue light services will be offered at The Emergency Services Show in Birmingham this September. "We face uncertain times with the cooling of relationships with Russia, the unstable nuclear threat of North Korea and the constant threat of ISIS-backed terrorist attacks. Such global events have heightened the importance of the emergency services working effectively together to prepare for future incidents. Meanwhile in the UK, the recently published Kerslake Report on the Manchester Arena bombings specifically highlighted the importance of collaborative working between emergency responders," explains event director David Brown. "The Emergency Services Show is a free-to-attend event which promotes and enables such vital collaborations."
Last year's event attracted a record number of 7,599 visitors and buyers, representing an eight per cent increase on 2016. The increase in visitors from the police (up 130 per cent) and prison service (up 30 per cent) was particularly significant. The free two-day event will return to Hall 5 and the outdoor area at the NEC, Birmingham this year on 19 and 20 September and will feature a host of key learning opportunities including CPD-accredited seminars and live demonstrations of the latest equipment and technology.
Collaboration with other emergency services will be a strong theme in the seminar theatres with presentations on Joint Operational Learning from JESIP, and members of The Resilience Advisors Network and Emergency Services Collaboration Working Group (ESCWG) sharing their expertise. In the Lessons Learnt seminar theatre (sponsored by UCLan PROTECT) multi-agency case studies will be presented by services who have responded to major incidents.
Speakers in the Health & Wellbeing theatre will include emergency responders who have experienced mental health challenges including Post Traumatic Stress Disorder, and organisations who are implementing change and offering support such as Oscar Kilo, Mind and the Back-up Buddy app.
Road Safety seminars will take place near the daily Extrication and Trauma Challenges hosted by West Midlands Fire Service. The programme will cover safety considerations when attending RTCs, legislation and accident investigations.
The College of Paramedics is returning to deliver its very popular programme of free 30-minute CPD workshops, which members of the police service are also welcome to attend. Sam Thompson, a forensic paramedic with Kent Police will present a session on rape and sexual assault, looking at the needs of the victims and improving immediate care and long term outcomes for these vulnerable patients. The programme also includes a presentation from custody paramedic Richard Steggall.
With over 400 exhibiting companies and organisations, the impressive indoor and outdoor exhibition is a one-stop shop for sourcing all the latest services and equipment. Visitors will be able to see and touch the latest kit and discuss solutions to their needs with leading suppliers. Exhibiting companies include leading names in first response, communications, IT, protective clothing and uniforms, body-worn video, medical supplies, drug testing, vehicles and fleet, vehicle equipment, drones, outsourcing, training, community safety and station facilities.
Organisers of the show are delighted to welcome back key suppliers including 5.11 Tactical UK, BMW Group, Bristol Uniforms, Jaguar Land Rover, Pinnacle Response, Primetech and Vimpex. Meanwhile companies exhibiting at The Emergency Services Show for the first time include Chevin Fleet Solutions, Coverwatch, Dimatex Securite, Headset Services, Horton Motorcycles, In Safe Hands Health and Safety Training Consultancy, Jemca Toyota, Service Dogs UK, SimTrainer UK, Strongmind Resilience Training and Sub Zero Technology.
In the networking hub of the show, The Collaboration Zone, over 80 emergency services, voluntary groups, charities and NGOs will be sharing details of the support they offer, and partner agencies will be available to discuss co-response. British APCO, ResilienceDirect, British Transport Police and Police Dependents Trust are among the exhibitors who have already booked stands in this popular area of the exhibition, and Her Majesty's Inspectorate of Constabulary & Fire & Rescue Services will be exhibiting for the first time.
Entry to the exhibition and seminars is free, as is parking. The NEC is linked to Birmingham International Station and Birmingham Airport and is directly accessible from the UK motorway network.
To register now for free entry visit www.emergencyuk.com