UK police forces donate millions to charity
UK police forces donate millions to charity
Monday, 11 September, 2017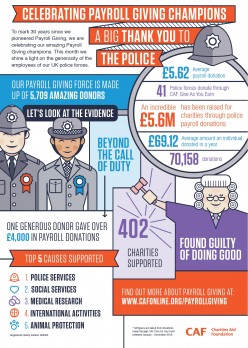 Police forces around the UK are donating millions of pounds to charity through payroll giving, according to new research from the Charities Aid Foundation (CAF).
Forty-one police forces donate to good causes using the Give As You Earn scheme which was pioneered by CAF 30 years ago.
Over £5.6m is channelled to charities via payroll donations with an average individual donation of £69 per year. There are nearly 6,000 donors from forces across the country.
The top 5 causes supported are police services, social services, medical research, international activities by organisations such as Unicef and WaterAid, and animal protection with more than 400 charities receiving donations.
Klara Kozlov, Head of Corporate Clients at CAF said:
"As well as providing outstanding public service across the country, our police forces are contributing to good causes in a big way.
"Payroll giving is a flexible, tax-effective way to ensure charities receive regular financial help.
"By donating through the CAF Payroll Giving Scheme our policemen and women show amazing generosity and are able to support their much loved charities and causes."