Teenager's final wishes come true
Teenager's final wishes come true
Thursday, 07 September, 2017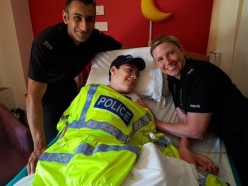 From left to right: PC Tanveer Hussain, Sebastian Barriga and PC Shona Gillen
A terminally ill teenager got to fulfil his dream of meeting his traffic cop heroes the day before he died, after his parents spotted the officers while they were off duty.
Bedfordshire Police PCs Tanveer Hussain and Shona Gillen visited 15-year-old Sebastian Barriga in Keech Hospice after Sebastian's parents, Elva and Guillermo, recognised Tanveer from his appearance on BBC One's Traffic Cops.
Sebastian's parents told Tanveer that he and his on-screen colleague Shona Gillen were Sebastian's heroes and that his dream was to meet the pair after seeing them on the TV programme and falling in love with them.
The officers visited Keech Hospice in Luton in July to spend the day with Sebastian and his family. A small collection of gifts were given to him including a police baseball cap and a high visibility jacket, which both officers signed.
Sadly Sebastian passed away the following day, surrounded by his family.
Sebi's mum Elva, speaking on behalf of the family including sisters Tiffany and Alexandra, said: "Sebi had two big dreams, one was to meet his heroes and the other one was to become a policeman one day.
"When Tanveer and Shona came to see him and brought with them the jacket and hat, in that moment for him he became a policeman with a real jacket – he really believed that. So his second dream came true. And all thanks to Tanveer, Shona and Bedfordshire Police for allowing these two big-hearted police officers to come and visit our son.
"We are so grateful to all of you, especially to Tanveer and Shona, because my son was in a deep sleep when they arrived, but when he heard their voices he woke up and smiled for the last time. We will never forget that.
"Thanks very much from the bottom of our hearts."
The two officers were invited to Sebastian's funeral by his parents. Sebastian was dressed in Tanveer's jacket that they had given him during the visit.
Tanveer said: "It was an honour to meet Sebastian, he really made an impact on me – even though I only got to see him for one day. We managed to make him smile in his final hours. That is something that will stay with me for a long time."
Shona said: "It was an honour and a pleasure to meet Sebastian and his parents. Sebastian's smile will long live on in those that he met and it is lovely knowing that giving our time to meet him made his dream come true.
"It will remind me that not all dreams cost money, sometimes it's just time and compassion. To me, Sebastian and his parents are the true heroes. I will never forget meeting him and knowing how much it meant to him and his parents."