Sheep DNA secures conviction
Sheep DNA secures conviction
Tuesday, 16 May, 2017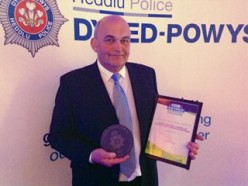 PC Meirion Jenkins with his award
Dyfed-Powys Police has used DNA evidence to secure a conviction against a man for handling stolen sheep - the first time evidence of its kind has been used in a conviction in Wales.
Andrew Paul Thomas, aged 39, of Bryncethin Road, in Garnant, admitted the charge of handling stolen property, having previously pleaded not guilty on the first day of a trial at Swansea Crown Court.
Forensic techniques usually reserved for humans were used to gather DNA from the sheep by the Animal Plant Health Agency, which formed crucial evidence to the prosecution case.
The theft of 50 sheep from the Derwydd area of Ammanford was reported in January 2015, and the victim started his own enquiries to trace them in the farming community. He discovered 21 sheep suspected of being his, which had been sold at Llanybydder Livestock Market less than two weeks after being reported stolen.
Ammanford officer PC Meirion Jenkins wanted to prove beyond reasonable doubt that the animals belonged to the victim. He sought advice from the force's rural crime specialist Acting Inspector Matthew Howells, who assisted with the coordination of the use of DNA evidence by the Animal and Plant Health Agency (APHA).
Police officers investigating the case waited two months for the pregnant ewes to give birth, and were then able to take blood samples from the lambs. Samples were also taken from rams owned by the victim. Scientists at APHA were able to prove that the majority of the newborn lambs were related to the victim's rams by examining DNA from all the blood samples. This is the first time such evidence has been used to prosecute a case of this type in Wales, and only the third time across England and Wales.
Temporary Inspector Matthew Howells, based at Lampeter Police Station, said: "Traditionally, sheep rustling cases are very difficult to detect and prosecute, with this case being no exception. Although we were unable to prove who stole the sheep, we were able to use forensic techniques usually reserved for humans to help prove that the sheep were in fact the stolen ones.
"The farmers who unsuspectingly bought the sheep at market also deserve my thanks and appreciation for their assistance in this investigation along with colleagues from APHA for providing the forensic opportunities.
"What this case shows us is that where the farming community works with the police, reporting crimes and providing us with vital information, we can be successful in taking out prosecutions."
PC Meirion Jenkins, who led the investigation, was presented with the Contribution to Investigation Award at the Dyfed-Powys Police Awards last month.
He said: "It is a satisfying feeling to be presented with this award, but I like to think it is for the force as a whole and not just me as a lot of other officers helped me.
Professor Christianne Glossop, Chief Veterinary Officer for Wales, said: "Theft of stock can have a serious financial impact on farmers and I am pleased that DNA evidence from the Animal and Plant Health Agency was able to play such a key part in this case."