Fur-well to Twitter scent-sation!
Fur-well to Twitter scent-sation!
Thursday, 13 April, 2017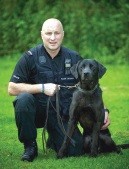 PD Smithy with handler PC Terry Arnett
A captivating canine, who was one of the first police dogs on Twitter, is saying a fond fur-well to West Midlands Police after joining his handler in retirement.
Labrador Smithy has attracted more than 3,200 followers on social media after innovative PC Terry Arnett set up the @WMPcsidogsmithy account to share his crime-fighting exploits and progress with the public.
Over the last eight years the pair have been involved in hundreds of West Midlands Police investigations - helping to carry out searches, sniff out suspects and bring about justice. But the time has finally arrived to cur-tail their policing careers and the duo bowed out at Crufts last month after taking part in the force's annual dog display.
Even then their police instincts came to the fore after helping to reunite a four year-old child with his family after he wandered off at the busy Birmingham-based event.
Father-of-three Terry joined West Midlands Police as a beat bobby in Chelmsley Wood but has spent the majority of his time as an officer working as a dog handler and a breeder.
He joined forces with Smithy - who was originally a guide dog before going through the force's dedicated dog training unit at Balsall Common - after previously being a handler of four other crime-fighting canines.
The now nine-year-old Labrador was trained in sniffing out any signs of human life and has been involved in enquiries around the Nicola Payne investigation and also assisted other forces including the April Jones case.
The pair will now have the op-paw-tunity to spend more time together in retirement as Terry is keeping Smithy as a family pet. Terry, aged 49 from Coventry, who is involved with the Pilgrim Bandits charity, also received an award from the Kennel Club last month for his work with dogs.
He said: "There have been many memorable moments with the dog unit, and particularly Smithy. We have developed such a bond over the yearsand it is quite fitting we are ready to retire together. "I have had a great time working with the dogs at West Midlands Police; it has never been dull and we were even needed to help out at Crufts last month!
"We have always had great support from the public and Twitter enabled me to give updates on Smithy's progress. I feel quite proud of the fact he was one of the first police dog's on social media as it showed that the force was looking at different ways of engaging with people.
"The work of a police dog is invaluable and now is time for the next breed to take
over the mantle."