Super sniffer
Super sniffer
Wednesday, 12 April, 2017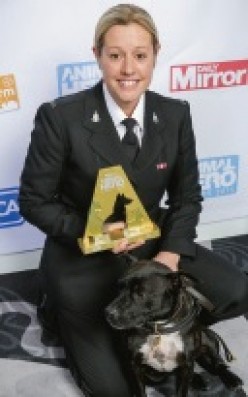 Four years ago Stella the Staffordshire bull terrier was an unwanted dog rescued by the RSPCA today she is a super sniffer dog with police in Gloucestershire whose Crufts 2017 performance has gone viral.
Through her work she often finds guns, cash and drugs and even sniffed out a secret stash of £25,000 - now she can add internet sensation to her glittering CV after a clip of her showcasing her skills at Crufts 2017 has gone viral.
Stella had been found roaming the streets by an RSPCA inspector in 2013 and was taken to RSPCA West Hatch Animal Centre, in Taunton, Somerset. Her owner was traced but sadly they didn't want her back.
Stella, who joined the police back in 2014, is already a social media star with more than 6,000 followers on Twitter and has been picking up even more fans after a clip of her stunning dog show performance has been viewed almost 9,000 times.
Stella's skills were first spotted by RSPCA West Hatch kennel supervisor Sue Dicks who quickly realised that Stella had a special talent.
Sue said: "When she first came in I took her out to play fetch and realised she had a real talent for finding the ball. "I hid the ball in lots of different places so Stella would have to climb on tables and through windows to get it and she was fantastic. "It is great that the police took a chance on her - she isn't your typical police dog but she gets the job done."
Stella was graduated from police dog training school after completing the six week course in just four weeks was placed with PC Claire Todd from Gloucester Police In her first live search the day after graduation she found £200 cash hidden inside a drawer.
Stella is one of thirteen dogs rescued by the animal welfare charity that have been successfully rehabilitated by the RSPCA team. Sue Dicks has spent a number of years working alongside PC Lee Webb from Avon and Somerset Police to recognise those dogs with the potential to make it as police dogs.
Their first Staffie success story was Kos who was rehomed to Lee at Avon and Somerset Police in 2012. In June 2016 Boris the Staffie became the 12th dog to become a long paw of the law, before a spaniel named Ted, who was rescued become the 13th police dog from RSPCA West Hatch, saw his former owner disqualified from keeping animals for 10 years following a prosecution case brought by the RSPCA in January 2017.
One of the dogs - a spaniel cross called Sid - went on to be trained as a sniffer dog specialising in explosives. He worked at the London 2012 Olympics and even became part of the team protecting President Barack Obama during his visit to Ireland in 2011.