Cyber safety message
Cyber safety message
Wednesday, 12 April, 2017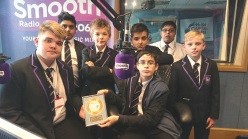 Winning pupils from Bluecoat Beechdale Academy
Pupils from a Nottingham school took to the airwaves last month to spread the message about online safety.
The youngsters from Bluecoat Beechdale Academy came up with the slogan "once you've sent that, there's no going back" as part of short radio advert warning children about grooming and sexual exploitation.
The 50-second clip was the winning entry in a competition open to schools across Nottinghamshire. It was recorded in the Smooth radio studio and was broadcast on Capital FM on Saturday 18 March 2017, which coincided with national Child Sexual Exploitation Awareness Day.
It was run by Ucreate and was funded by the Office of the Police and Crime Commissioner for Nottinghamshire and the Local Children's Safeguarding Broads for Nottingham City and Nottinghamshire County Councils.
The aim of the competition was to raise awareness among Year 6 to Year 9 pupils of online sexual exploitation of children and internet safety.
The children from the winning school said the competition had inspired them to think more about online safety and spread the message among their peers.
A platform of learning resources were set up and children were tasked to create their own radio commercial designed to raise awareness of the topic.
The entries were initially shortlisted by Ucreate then further shortlisted by representatives of both Local Children's Safeguarding Boards and Nottinghamshire Police.
The winning entry was selected by children and young people currently engaging in the NSPCC's Protect and Respect programme - to ensure that young people directly affected by the issues raised had a say.
T/Detective Chief Inspector Pete Quinn, of Nottinghamshire Police Public Protection, Child Safeguarding, said: "As children and young people continue to live their lives to a greater extent online the requirement to raise awareness of internet safety and online child sexual exploitation has never been greater."