Scotland victorious over Hampshire to win Giffard Plate at 2nd attempt
Scotland victorious over Hampshire to win Giffard Plate at 2nd attempt
Thursday, 26 May, 2016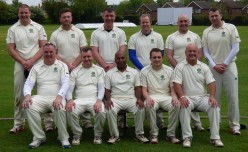 The long overdue 2015 Final eventually took place at Ockbrook & Borrowash CC on Thursday 19th May.
Who would have thought any play would be possible following the amount of rain deposited on the East Midlands during the previous 24 hours.
That said the sun was shining early that morning and the covers had withstood the overnight rain.
Hampshire were making their first Final appearance whilst Scotland were hoping to go one step further than last year where they were defeated by Surrey at the same venue.
With the forecast indicating that rain would be returning around 5pm both captains agreed to a shortened game of 30 overs per side.
Scotland has no hesitation in asking Hampshire to bat on winning the toss and had early success with the dismissal of Newsham lbw for 0 padding up to Pryde in the 2nd over.
For the next 20 overs Cottrell and Wakely completely dominated proceedings scoring at 6-7 runs an over in relative ease. Both latched on to any loose deliveries finding the ropes with regularity.
Cottrell had eased to his fifty had moved into the 70's when Wakley was bowled by Rodger for 39. His dismissal ignited a collapse with wickets falling at regular intervals so much so that no other batsman got into double figures. Fortunately Cottrell when not deprived of the strike continued to attack and was rewarded with his maiden century for the Force in the 28th over. He eventually fell for 117 as the innings closed on 188.
Pick of the bowling was Rodger 3-34 and Rana 3-36.
Following a scrumptious "spread" for Tea Scotland set about in chasing down the Hampshire total. Foster was the dominant force playing with real aggression with Foster despite the early loss of Dalglish (12) Weir (11) and Rodger (0). By the time Foster fell for 43 the required run rate had increased to over 8 an over.
What followed in the last 10 overs was quite spectacular.
Carlyle showed the same form as in 2015 with a solid 44 but it was the quick fire 33 in 5 overs from Palin that really gave the innings momentum until he fell to a great catch at mid off by which time he had reduced the target to 18 in 3 overs which was achieved by Hussain 20* and Pryde 6*. Victory in the 30th over by 4 wickets.
Just as both teams shook hand the rain began to fall.
Nav Hussain received the Giffard Plate from Paul Sims (National Knockout Secretary)
The umpires had no hesitation in selecting Tom Cottrell as Man of the Match for his 117.
Both Forces have to be congratulated in the way they played the game and conducted themselves throughout the day.
Hampshire and Scotland are both a credit to Police Cricket and we wish them all success in 2016.
Finally many thanks go to Police Credit Union who have been sponsoring both competitions since 2011 and have already agreed to continue in 2016