Transport Security Expo continues to strengthen its position as the world leading transport security event
Transport Security Expo continues to strengthen its position as the world leading transport security event
Friday, 08 January, 2016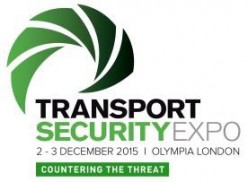 Transport Security Expo 2015, held at London Olympia on 2-3 December, proved to be a genuine success story with its record breaking attendance of over 4,500 international security professionals, 150 leading brand name global exhibitors, 36 official Government hosted country delegations, and 20 UK Stakeholder Agency Delegations.
In fact, with the support of UKTI DSO, we officially hosted more international delegations than ever before, several of which were looking for security solutions representing High Value Opportunity projects in excess of £500m. Also in attendance were Trade Envoys - specially appointed UK parliamentarians with specific responsibility for engaging with one or more emerging markets - from a number of key countries, including Saudi Arabia, Mexico and Turkey.
Plenary Conference
The Plenary Conference sessions were opened by the Security Minister, John Hayes MP, and included an afternoon session dedicated to Future Security. A panel of experts from TRL, Imperial College, CESG and KPMG discussed and debated predictions for 2016-2020, the implications of connected technology for transport networks and critical infrastructure and the nature of the evolving threats.
Future Borders Briefing
Introduced for the first time in 2015, our Future Borders Briefing Theatre hosted a number of standing room-only presentations. The keynote address was given by Julie Gillis, Director, Border Force, and the briefings covered a range of subjects, from the use of biometrics to the nature of inside and outside threats to the importance of co-operation between industry, government and academia. Such was the success of this border security initiative, it will become a permanent feature of Transport Security Expo from 2016 onwards.
Sector Conferences
Each of the Expo's sectors had its own conference stream and the Aviation Security conference provided deep insights into threat assessment, prevention and mitigation which were especially valuable in the light of recent tragedies. Widely appreciated sessions from the DfT, Hong Kong Airport, KLM, the CAA and Virgin Atlantic stimulated extensive discussion and pointed towards the future on key security and facilitation themes. IATA together with Manchester and Gatwick Airports and other experts also led an important discussion on smart security advances and recent developments on remote passenger screening. On the second day, the key issues of security incident response and flight deck management were addressed with a series of absorbing presentations and
discussions. The final session of the conference focused on the developments and advances afforded by improvements in technology and its application to aviation security.
The Maritime Security conference programme also covered a number of pressing themes, including the migration crisis and the impact on merchant shipping. Experts from the Royal United Services Institution (RUSI), the European Commission and others shared their views and expertise on a range of subjects including the European Union Maritime Security Strategy (EUMSS) and its implementation, transnational organised crime and people smuggling, and the key maritime security concerns in West Africa. Presentations on the second day considered the threats to maritime supply chains in 2016, the new cyber security guidance for the shipping industry, the security conundrum for every port of balancing security compliance and facilitation, and the global impact of ISIS on the export of crude oil.
In the Secure Transportation conferences, experts and practitioners from across Europe focused on a variety of issues, including the use of cargo drones to counteract cargo thefts from trains, the graded security approach to the transportation of radioactive and nuclear material, current and emerging transnational security risks for freight, and threat assessment and best practice in the protection of high net-worth individuals and VIPs.
A range of expert speakers, including high-level representatives from the European Commission, the British Transport Police, London Fire Brigade, KPMG and the Surrey Centre for Cyber Security, discussed a series of interlinked topics in relation to Rail & Public Transport Security. On the 10th anniversary of 7/7, particular attention was paid to the lessons learned from that tragic event as well as from the security success of London 2012. European Union rail security policy developments were also discussed in the light of recent events on the continent in addition to the key strategies needed to protect mass transport networks from the threat of terrorism. Other subjects covered included the cyber risk to delivering new services and end-to-end optimisation in digital rail.
Security Innovation Seminars
Running alongside the main conference streams, Transport Security Expo held a series of Security Innovation Seminars which introduced delegates to some of the latest developments from a number of different exhibitors, including Panasonic Europe, Southwest Microwave, Morpho Detection (UK) Limited, Genie CCTV, Dedrone GmbH, L-3 Security & Detection Systems, Bosch Security Systems and Smiths. These seminars presented a range of innovative solutions across a number of different areas: perimeter security for multimodal transport, mobile surveillance, an EU rollout of ETD for passenger screening, biometrics on the move, drone detection technology, the evolution of checkpoint people screening to meet new regulatory requirements, emerging stand-off technologies for protecting crowded places, full situational awareness for airports and railway stations, and the use of text analytics in a security and border environment.
So many good lessons were learned from the success of Transport Security Expo 2015 that next year's event promises to be even bigger and better.