Seminar united police drug experts across the UK
Seminar united police drug experts across the UK
Monday, 07 December, 2015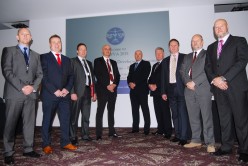 Members of DEWVA Committee, including Nick Lowden, Dick Gregory, Pete Collins, Steve Hamilton, Mike Kent, Kenny Simpson, Chris Green, Vice Chairman(Met Police),Steve Holme & Adrian Parsons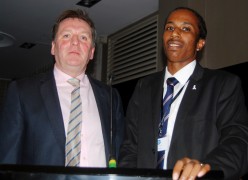 Chris Green (Vice Chairman DEWVA) alongside Junior Smart, an ex London gang members who addressed delegates.
Over 200 delegates attended the 7th annual Drug Expert Witness and Valuation Association (DEWVA) seminar which took take place over two days on 23 and 24 November, 2015.
The event was held place at the Holiday Inn, Stratford-Upon-Avon, and set the agenda for Drug Expert Witnesses and Valuers (DEWVs) from all UK and Channel Island police forces.
Through the event, the DEWVA aims to professionalise Drug Expert Witnesses and qualify them to present expert evidence at court - this is a prerequisite for the role under new legislation.
There are approximately 500 DEWVs across the UK and Channel Islands. Some work exclusively in the role - in dedicated teams - whereas others fulfil the role over and above other primary jobs within their organisation.
At the event a programme of key opinion formers shared their expertise on current trending topics such as drug adulteration and dealing techniques, drug market values, and drug slang. It provided important networking opportunities for drug expert witnesses and enabled them to share best practices in what is a dynamic and evolving field.Delegates also heard from a reformed London gang member who talked about the ripple effect of practices into county forces by often London-based gangs.
Dick Gregory, Treasurer for the DEWVA and organiser of the seminar, said:
"I am delighted to confirm that 210 delegates attended this year's event. This investment in money and time by police forces reflects the increasing profile and the growing importance placed in DEWVs - this is something that the Association has worked very hard to achieve.
"The presentation of credible evidence at court is critical for the proper administration of justice. When convicting drug dealers, it is important that nothing is overlooked to ensure those who deal in drugs are given sentences that they deserve and also that they do not profit from their crimes.
DEWVs must be able to demonstrate expert knowledge and the seminar plays a key role in the continuous professional development of individuals.
Without a credible expert witness and value statement from a qualified DEWV, the Crown is not able to pursue a prosecution which places significant importance upon the role.
Dick Gregory, added: "We are operating in a world of deep cuts during a time of extreme austerity. Success in this important area can also realise important savings and efficiencies for the criminal justice system with expert evidence often leading to guilty pleas at court which avoids costly trials.
"The seminar offers superb value for money for police forces which in return can be confident that they have DEWVs who are on top of the latest trends and issues. The specialist sessions delivered at this year's event were designed to equip them to present quality expert evidence in courts throughout the UK and to support the Crown in prosecuting organised criminal gangs which blight many of our communities."