"Grant Graces Police Credit Union PSUK National Cricket Final"
"Grant Graces Police Credit Union PSUK National Cricket Final"
Tuesday, 20 October, 2015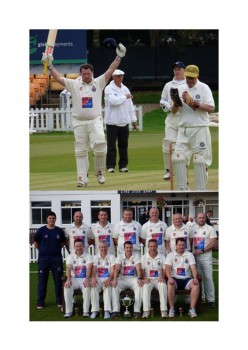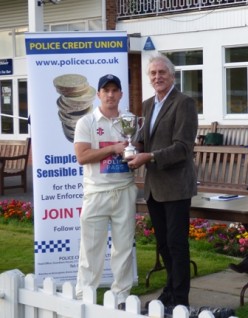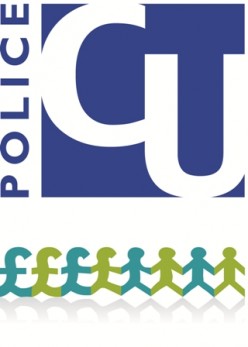 Dyfed-Powys v Police Service of Northern Ireland. Grace Road, Leicestershire County Cricket Club, Wednesday 9th September 2015
Dyfed-Powys beat the Police Service of Northern Ireland (PSNI) in what was one of the most one sided National Finals seen for some time. A result which was in no small part down to Richard Grant of Dyfed-Powys who contributed with 105 runs and then claimed 4-22, making him the clear choice for Man of the Match.
The final was blessed yet again by fine dry weather, a 7th straight year without an over being missed, and Leicestershire's Grace Road looked in excellent condition. The thanks of PSUK Cricket thanks must go to all at Leicestershire CCC for the warmth and hospitality everyone at the club extended to PSUK Cricket, the players of both sides, supporters and our sponsors from Police Credit Union.
Dyfed-Powys won the toss and elected to bat on a hard dry track and wasted no time amassing runs through the opening partnership of Richard Grant and Huw Evans. Evans was the first to fall with the score on 66 having scored 31. Grant continued to score at a steady solid rate reaching his fifty just shy of 20 overs. His scoring was somewhat curtailed by the steady flow of cheap wickets meaning he was unable to build another solid partnership.
The bowling of PSNI was friendly with only Graeme Moore, their skipper taking 3-54, with his 3 wickets coming in 4 balls taking any credit. However as is often the case in police sport finals, PSNI were without 2 or 3 regular players. That said what PSNI may have lacked on the field they more than made up for it in their vocal and sociable off field support.
As Dyfed-Powys' innings moved into the latter stages, Richard Grant continued his impressive form having scored a century in the semi-final against Staffordshire, by completing his century making him the first player to hundreds in 2 National finals. Richard Grant finally went for 105 to a deceptively slow leg stump full toss!!!
With some impressive last few over hitting from Gareth Grant, bringing up his 50 in the final over Dyfed-Powys finished on 269-6 from their 45 overs.
What appeared to be a sporting target very quickly became insurmountable as PSNI lost 3 early wickets with the score barely in double figures. This was the unfortunate pattern of PSNI's innings which never got going until they were all out for 88 in only 27.3 overs.
Dyfed-Powys bowled extremely well, something they have become known for. Without electric pace in their side they use their combination of right and left arm orthodox spin of Richard Grant and Mark Davies respectively and then Gareth Grant's right arm leg spin to great economical effect. Richard Grant finished the day with 4-22 from 9 overs and Gareth 3-23 from 5 overs.
It was left to the umpires Dan Pedley and Ray Knowles to select the obvious Man of the Match, a decision which typified their day, one of no drama or fuss.
At the end of what was a one sided but still no less enjoyable day, the players, umpires and scorers (Sandra PSNI & Stuart Dyfed-Powys) received their trophies from Peter Evans, the Chief Executive of Police Credit Union.
On behalf of everyone involved with PSUK Cricket we would like to extend our gratitude to Peter and the Police Credit Union for their support and we were delighted to hear that Police Credit Union will be sponsoring the PSUK Cricket National Knockout competition in 2016.
The final was concluded by the traditional dinner to which our thanks to Simon Cole Chief Constable of Leicestershire and PSUK Cricket Vice Chairman, Liam Kelly PSNI and Mark Davies Dyfed for some entertaining speeches.
Probably the best performance of the day came just prior to the speeches when both sides were enjoying each other's banter, the room was a wash of laughter and you would've been hard pressed to identify who'd actually won. Surely that's what it's all about?
So congratulations to both Dyfed-Powys and Police Service of Northern Ireland for how you conducted yourselves both day and night.
SCORECARDS
PSUK NATIONAL KNOCKOUT 2015
DYFED-POWYS

Batsman

How

Out

Bowler

Score

Balls

1

Richard Grant

Ct Weir

Lynch

105

119

2

Huw Evans

ct Bates

Adair

31

35

3

Gary Williams

Run Out

0

7

4

Simon Cole

C + B

Moore

23

32

5

Mark Davies

Bowled

Moore

0

1

6

Andrew Williams

LBW

Moore

4

2

7

Gareth Hughes

NOT OUT

25

35

8

Gareth Grant

NOT OUT

55

35

9

Rob Seymour

DNB

10

Wayne Jones

DNB

11

Spencer Rourke

DNB

Extras

26

TOTAL

269

For Wkts

6

BOWLING

Bowler

Overs

Maidens

Runs

Wickets

G Moore

9

1

54

3

A Lynch

9

2

37

1

M Adair

9

2

32

1

N Holmes

9

0

61

0

K Gardiner

5

0

57

0

P Black

4

0

22

0

PSNI

Batsman

How

Out

Bowler

Score

Balls

1

P Bates

Ct Seymour

A Williams

10

11

2

I Marsh

C+B

R Grant

7

21

3

PJ Whyte

LBW

R Grant

0

7

4

A Lynch

St Evans

G Grant

16

47

5

M Chambers

LBW

R Grant

7

25

6

K Gardiner

Bowled

R Grant

3

2

7

C Weir

Bowled

M Davies

10

20

8

G Moore

Bowled

M Davies

11

15

9

M Adair

LBW

G Grant

0

1

10

P Black

NOT OUT

6

12

11

N Holmes

LBW

M Davies

1

9

Extras

17

Total

88

Wkts

10

BOWLING

Bowler

Overs

Maidens

Runs

Wickets

A Williams

9

1

32

1

R Grant

9

1

22

4

G Grant

5

0

23

3

M Davies

2

9

2