PPSS Group Announce Details for LONE WORKER SAFETY 2015 Expo
PPSS Group Announce Details for LONE WORKER SAFETY 2015 Expo
Friday, 13 March, 2015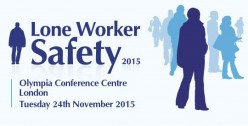 The personal safety of those working alone has become a very important issue all over the world, and this year's LONE WORKER SAFETY 2015 Conference and Exhibition will once again be a great opportunity for everyone to share their expertise, experiences and concerns.
UK based PPSS Group have now announced the date and venue for this year's event, which is now in its sixth year, and has grown even since its launch in 2010.
Taking place once again at London's well respected Olympic Conference Centre, this much respected event will open its doors on Tuesday 24th November 2015.
"Just like in previous years, LONE WORKER SAFETY 2015 Expo will again be solely structured around lone worker safety and focus on health & safety professionals, lone workers themselves, managers, team leaders and senior members of staff who work within organisations where lone working takes place," says Robert Kaiser, CEO of PPSS Group and Organiser of this annual event.
"WE are very much looking forward to welcome delegates and visitors from a wide variety of sectors e.g. public sector enforcement, housing, security, law enforcement, social and health care, education, nursing, utilities field representatives and public transport. However, we would like to welcome everyone who shares our sincere passion for lone worker safety."
This annual event has been set up to help reduce the risk of workplace violence. Some of the UK's leading experts in lone worker policies, risk assessment, conflict management, lone worker safety technology and behavioural safety will deliver some of the most passionate and interesting presentations, which will go far beyond basic theory.
Robert Kaiser highlighted that further information will be made public shortly: "We aim to announce further details in regards to expert speakers, program details as well as exhibitors within four to eight weeks. Our website is being updated frequently."
Further details of this event can be obtained on the event's website: www.loneworkersafetyexpo.com or by email info@loneworkersafetyexpo.com