Honorary degree for law graduate who became Crime Commissioner
Honorary degree for law graduate who became Crime Commissioner
Monday, 14 July, 2014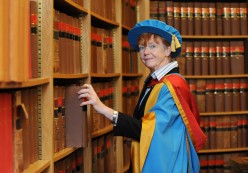 Vera Baird, QC, Police and Crime Commissioner, returned to Northumbria University today (Monday July 14) to receive an Honorary Doctorate of Civil Law forty years after she first graduated with a law degree.
After leaving Northumbria's predecessor Newcastle Polytechnic, where she was Vice-President of the Students' Union and editor of the student newspaper, Vera Baird forged an impressive career as a barrister. She was named as one of the top five talents at the criminal bar by The Lawyer Magazine.
She was involved in landmark civil liberty cases including the Orgreave Riot trial, the first pregnancy discrimination case to reach the House of Lords and a series of Appeals which helped change the law of murder for women who killed their violent partners.
In 2001 she began a second successful career when she entered the House of Commons as Labour MP for Redcar. She was appointed a Minister in the Labour Government in 2006 before being appointed Solicitor General from 2007 to 2010.
Vera Baird is now Northumbria's first Police and Crime Commissioner and has introduced safeguarding training for staff in the nighttime economy, an initiative that has now been adopted nationally. She has reformed how local police complaints are managed and improved the police response to domestic and sexual abuse.
During her visit to the University, Ms Baird took the time to discuss crime and policing issues with Northumbria's leading criminology and law academics and met with students working in the Student Law Office. The outstanding work of the Student Law Office was recently awarded a Queen's Anniversary Prize, the highest form of national recognition open to an academic institution.
Ms Baird received her honorary degree alongside students graduating from Northumbria's business and law programmes.
The recipients of honorary degrees are nominated by the University's staff for their achievements, their links to the University – and for their sheer inspirational qualities. Baroness Howells of St Davids, OBE and Brian Johnson, lead singer of AC/DC have also received honorary degrees from Northumbria University this month.