Norfolk Chief praises officers
Norfolk Chief praises officers
Tuesday, 08 July, 2014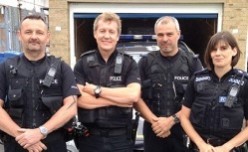 A Norfolk police chief has praised the "immense bravery" of officers who risked their own lives to save a woman from a burning house in Swaffham.
Assistant Chief Constable Sarah Hamlin said the actions of the five PCs, from Swaffham SNT and the Roads Policing and Firearms Operations Unit, were "commendable" and reflected the spirit of officers across the force to help save and protect life.
The incident happened on Friday 13 June lunchtime when the fire service alerted police to a blaze at a house in Spinners Lane. Local beat manager PC Paula Gilluley and roads policing officer PC Chris Curtis were first on scene having run about 200metres from the station, also on Spinners Lane.
The distraught carer outside the property who had raised the alarm with the fire service met the officers. The carer was able to give them the keycode to unlock the front door, and PC Curtis and Gilluley headed into the smoke-logged house along with PC George Healey who by this time had also arrived on scene.
PC Curtis said: "We were met by a wall of smoke and a slight amount of heat in the hallway, you couldn't see at all. I felt the wall going down the side of the living room and felt the door which was hot, I paused briefly because we didn't know what was waiting for us behind the door. I pushed the door open but while there wasn't a massive amount of flames you could instantly feel the heat."
Fought back by thick smoke and intense heat, officers retreated but determined to find the resident they returned to the address with torches to help search but were again beaten by the thick smoke. They were joined by PCs Nathan Woodgate, George Healey and Jez Blamire who, despite repeated attempts to enter the front of the house, were fought by the thick smoke.
PCs Woodgate and Blamire went to the back of the house and after breaking down the back door were able to enter the living room where they found the elderly woman slumped in her chair.
The resident, aged in her 70s, was rescued from the house and officers provided first aid in the front garden, giving oxygen and treating the woman's burns on her lower legs while also getting the defibrillator ready should her condition suddenly turn for the worse.
Norfolk Fire and Rescue Service arrived on scene followed by the ambulance service and the woman was taken by air ambulance to the Norfolk and Norwich University Hospital. She has since been transferred to a specialist unit where she continues to recover well.