ESG Invests in New Hair Toxicology Technology
ESG Invests in New Hair Toxicology Technology
Tuesday, 15 April, 2014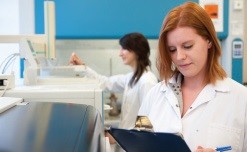 Leading environmental testing, inspection and compliance provider, Environmental Scientifics Group (ESG), has invested more than £200,000 in new drug and alcohol detection technology to help clients protect the safety of its employees.
In addition to its UKAS-accredited drugs of abuse in urine sample testing, ESG now offers hair toxicology analysis using the Shimadzu Ultra High Performance Liquid Chromatograph with Triple Quadrupole Mass Spectrometer - or UHPLCMS/MS for short - putting it at the forefront of technological advances in the industry.
Accurate drug abuse analysis is essential for companies employing safety-critical workers, such as those in the construction industry. When used alongside traditional methods such as urine testing, hair toxicology can enhance the accuracy and scope of substance detection and identification.
A key benefit of hair analysis is the ease with which a sample can be collected. The use of a simple cutting method prevents interference with the sample and means no additional collection facilities are required - such as a secure toilet, cold storage or biohazard facility.
Head hair grows at approximately 1cm a month and can be used to provide a time line of drug use. This is particularly useful for pre-employment screening as historical drug use can still be detected. If no head hair is available, body hair can be substituted although a time line of use cannot be determined.
The Shimadzu machine - which boasts the fastest multiple reaction monitoring (MRM) transition times on the market - together with novel hair extraction technology developed at ESG, will also significantly improve turnaround times of results, a crucial factor during pre-employment assessment or random in-house screenings.
Fiona Coope, business manager for laboratories and analytical services, commented:
"There are a number of benefits to using hair samples for drug abuse analysis. With this new technology we'll be able to screen for substances and confirm what they are at the same time - speeding up the process significantly. We'll also be able to detect if an employee has been taking drugs over a prolonged period of time.
"By combining hair toxicology with urine testing, which uses gas chromatography and mass spectrometry to provide both unambiguous and quantifiable data, our clients can identify drug use much quicker and build up a more accurate picture of shortterm and historic abuse."
ESG's drugs of abuse analysis from hair samples (DaH) services include:
•Worldwide sample collection or, alternatively, the provision of kits for in-house sampling
• Analysis of over 50 drugs of abuse, including alcohol as Ethyl Glucuronide (EtG)
• Drug screening, identification and quantification provided in one test
• A Certificate of Analysis typically provided within three working days, or an expert witness statement within five days
ESG is already in talks with a number of leading contractors about providing hair toxicology testing services this year.
• Visit ESG on stand 1-D65 at Forensic Expo Europe on 29 and 30 April to find out more about drug of abuse analysis from hair, or contact Paul Powles on 01283 554689