This February BSi launched the new standard for First Aid Kits in Motor Vehicles
This February BSi launched the new standard for First Aid Kits in Motor Vehicles
Wednesday, 12 March, 2014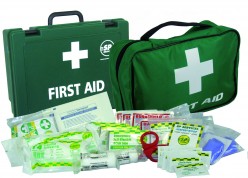 Having a first aid kit in the car can be a lifesaver. Not only can it prove crucial in the event of a road crash, but also in less serious mishaps such as cuts, scrapes and burns.
It can be difficult to judge exactly what you should have for your specific vehicle. The requirement for a bike which has 1-2 passengers would be vastly different for a car carrying up to 5 people or a minibus or larger vehicle which may require more than one kit.
The BSi have published a new national standard for first aid provision within motor vehicles. The standard aims to improve safety for all UK motorists by equipping vehicles with a first aid kit scaled specifically to the size of vehicle and number of passengers, while providing the essential first response supplies needed to deal with a road side incident.
Coming into effect from the 3rd February 2014, the new standard aims to make it easier than ever before to ensure your motor vehicle is stocked with appropriate first aid provision, specifying requirements for the compilation of first aid components in three sizes of first aid kits - small, medium and large.
It's a great move by the BSi, providing the guidance required by the average user in a comprehensive set of kits that contain everything from plasters for minor cuts to burn dressings and CPR face shields for more serious incidents. Steve Bray, Managing Director of Shropshire based medical supplier SP Services (UK) Ltd and Vice Chairman of the British Healthcare Trade Association who was on the BSi Committee said "The work on developing these first aid kits was long overdue as both the type and volume of different vehicles on our British roads has changed significantly since the Dept of Transport originally did a standard back in 80's, We strongly believe these kits will help save lives and reduce the risk of patient's injuries being made worse while waiting for an ambulance."
SP have made it one step easier by preparing a range of kits in a choice of hard or soft cases – so you can pick the one best suited for your own vehicle as well as refill packs so you can keep fully stocked.
For more information on the kits visit www.spservices.co.uk/bs8599-2.