Sussex coppers to tackle 100k challenge for Blind Veterans UK
Sussex coppers to tackle 100k challenge for Blind Veterans UK
Wednesday, 05 March, 2014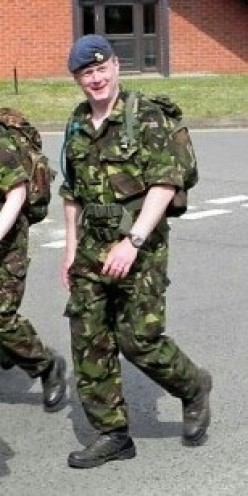 Alan Shave
A team of five police officers from Sussex has pledged to complete a gruelling 100k London to Brighton walk in just 24 hours to support blind and vision impaired Armed Forces veterans.
The team, which is made up of police from across the force, including detectives, airport police and traffic officers, will complete the 100k to raise money for Blind Veterans UK, in aid of the blind and vision impaired ex-Service men and women the charity supports.
Inspector Alan Shave, who will be walking as part of the team, says: "I'm ex-Army myself and come from a military family – both my grandfather and great-grandfather served – so I really wanted to help support a charity that, in turn, supports veterans."
Alan, who served in the Royal Engineers from 1983 to 1989, says: "What I really liked about Blind Veterans UK was that they are there for veterans throughout their lives – it doesn't matter if you lost your sight during your service or sixty years after leaving the military, they're there to help.
"As a veteran myself, it's great knowing that I won't have to deal with losing my sight alone if and when that happens."
Alan and his team will be completing the 100k walk through Surrey, Sussex and the North and South Downs, together.
Places for the 100k, which will kick off in Putney on Saturday 21st June and concludes on Sunday 22nd June, are currently available, with a registration fee of £99 per participant or £120 for a two- or four-man relay team. The all inclusive entrance fee for participants includes hot food at three rest stops, snacks and refreshments along the route, support from first aiders en route and a free event t-shirt.
The event is Blind Veterans UK's biggest annual fundraiser and takes walkers from a starting point in south London, along the banks of the Thames, through countryside paths in Surrey, Sussex and the North and South Downs to the charity's centre in Ovingdean, Brighton.
To sponsor the team, please visit http://www.justgiving.com/Alan-Shave. For more information about the 100k hike and about Blind Veterans UK's work, go to www.blindveteransblog.org.uk/walk-100k or sign up at http://walk100.org.uk/sign-up/.