Electric police cars have travelled the equivalent of ten times around the world
Electric police cars have travelled the equivalent of ten times around the world
Wednesday, 26 February, 2014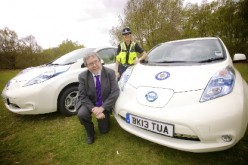 Thirty electric cars which were introduced to the fleet at West Midlands Police only eight months ago have already clocked up over 256,200 miles - the equivalent of travelling ten times around the world.
Police and Crime Commissioner Bob Jones, who himself uses public transport wherever possible said: "This represents a saving of £24,472 in fuel costs in 8 months - equivalent to the cost of a year's pay for one new police recruit. At a time when we are facing financial challenges, it is good to see that these cars are proving their worth and are also helping us to do our bit for the environment."
In the first eight months of use, the vehicles have also saved nearly 68 tonnes CO2 in tailpipe emissions.
The Nissan Leafs which were brought into service in the second week of June 2013 were split evenly across all 10 local policing units (LPUs) as the 'diary' cars for the force, to attend pre-arranged meetings with victims and people who have contacted the force.
The further use of electric vehicles is now under consideration in other areas of the Force's vehicle fleet.