Canine Crime Fighters
Canine Crime Fighters
Monday, 03 February, 2014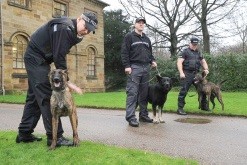 Three new canine crime fighters will bring Cleveland criminals to heel as officers welcomed them into the Force, last month.
The dogs are currently being put through their paces in training, which will take a total of thirteen weeks to complete. One dog, named Michel, completed his training over the Christmas period, meaning he is now fully licensed and operational, and has already hit the streets with handler PC Nick Lynch.
Basco and Jake have thirteen weeks training ahead of them, with their handlers PC Al Turley and PC Darren search for drugs, cash and weapons as well as general purpose dogs.