Barbados Police welcome launch of new DNA crime deterrent
Barbados Police welcome launch of new DNA crime deterrent
Wednesday, 02 October, 2013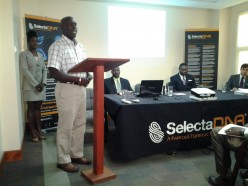 Superintendent Livingstone Eversley, Head of Criminal Investigations at the Royal Barbados Police Force, addresses senior officials at the launch of forensic marking product SelectaDNA in Barbados. Image credit Selectamark
THE Royal Barbados Police Force (RBPF) is to start utilizing synthetic DNA to help track down and convict criminals.
This new crime reduction initiative introduces SelectaDNA, a range of advanced forensic marking products, by way of a partnership between Barbados distributor Comprehensive Security Solutions Inc. and leading UK security company Selectamark Security Systems plc.
Produced by Selectamark, SelectaDNA (www.selectadna.co.uk) is designed to mark and identify legal ownership of assets, which can be used by police to link a suspect to a crime scene and can also be used as evidence in legal proceedings. SelectaDNA has an impressive track record in the UK, reducing burglary in crime hotspots by up to 85%.
On September 28 2013, Comprehensive Security Solutions and Selectamark, together with partner Digicel Barbados, officially launched SelectaDNA at the headquarters of the Barbados Chamber of Commerce and Industry in St Michael.
Digicel, the largest mobile telecommunications operator in the Caribbean, will be using SelectaDNA products to protect their own property on the island and will also sell SelectaDNA kits to commercial and retail customers.
Selectamark has been working with Comprehensive Security Solutions for over a year to implement the SelectaDNA product range for use by the RBPF.
During the launch, which was attended by high-ranking members of RBPF together with senior officials from the public and private sectors, Superintendent Livingstone Eversley, Head of Criminal Investigations at the Royal Barbados Police Force, accepted a presentation of a SelectaDNA Detection Kit from Ryan Clarke, Director of Comprehensive Security Solutions Inc.
A Memorandum of Understanding between Digicel and Comprehensive Security Solutions Inc. was previously signed to provide SelectaDNA products to Barbados.
Superintendent Eversley said local police welcomed the initiative. He added: "This is something we in the RBPF are very interested in as we look to use all available technologies to help us fight crime."
Andrew Knights, Managing Director of Selectamark, who was present at the launch said: "The main purpose of SelectaDNA is to deter criminal activity and reduce crime on the island. But if a crime does take place, police in Barbados now have a uniquely-coded product they can rely on to link a suspect to a crime scene, which can ultimately lead to arrest and prosecution."
Ryan Clarke, Director of Comprehensive Security Solutions, said: "With the launch of SelectaDNA in Barbados, I believe that Comprehensive Security Solutions has begun our company's vision to partner with local and regional law enforcement agencies to protect and provide safer communities, through the merger of people and technology."