Educating Cyclists
Educating Cyclists
Monday, 30 September, 2013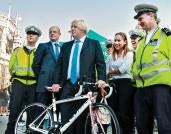 10,000th Cyclist Wins Bike
The Mayor of London has presented a brand new Cube bicycle, donated by
HaveBike, to a cyclist who was the 10,000th person to take part in the Metropolitan Police Service's (MPS's) Exchanging Places programme.
Andreea Constantinescu, from Westminster was on her way to work on Wednesday 4 September and stopped to take part at the event outside the Houses of Parliament unaware that she was the 10,000th person to have taken part. The event was organised by the MPS Cycle Task Force, a partnership between the Traffic and Safer Transport Commands, and Transport for London (TfL), and supported by HaveBike The Exchanging Places safety education course
was introduced by the MPS in 2007 that allows people to sit in the driver's seat of a HGV or bus to get a better understanding of what the driver can and can't see, especially in regards to cyclists on the nearside and directly in front of the
vehicle.
Andreea Constantinescu said: "I took up cycling thanks to the "Boris" bike and am immensely thankful for London's cycling infrastructure and the Met's road safety programmes, so it was a real honour to be the 10,000th cyclist to take part in the Exchanging Places Programme. I will definitely make great use of my new bike, and of course I will put safety first!"
Sergeant Simon Castle from the Cycle Task Force, said: "These events are very popular and effective and our feedback shows that 97 per cent of cyclists learn from the experience and 98 per cent would recommend it to a friend. I was
delighted to be able to give away this bike away to our 10,000th."