Croydon cops cycle to Arnhem
Croydon cops cycle to Arnhem
Monday, 30 September, 2013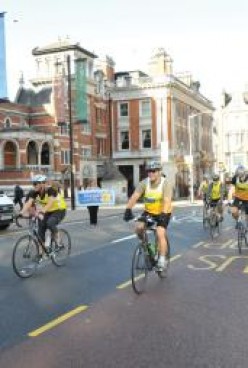 Croydon to Arnhem Bike Ride
Agroup of 28 cyclists made up of 20 current or ex-Croydon officers and staff, as well as colleagues from Croydon Council set off on Tuesday 17 September on a 300-mile journey to Arnhem in the Netherlands to remember WWII Operation Market Garden and raise money for charity.
It is the sixth year that Croydon Police has organised the annual trip that commemorates the anniversary of WWII Operation Market Garden 'a bridge too far' and this year's trip was the toughest challenge yet. The riders faced a gruelling 326-mile journey across four countries in just three days and were raising money in aid of the Marie Curie Cancer Care, with this year's target set at £10,000.
The cyclists also attended the annual remembrance and wreath-laying ceremony held by the city of Arnhem to remember the heroic efforts of the allied forces during Operation Market-Garden. WWII veterans and current armed forces personnel alike were also in attendance.
On behalf of the MPS Croydon officers laid a poppy wreath during the ceremony.
Sergeant George Shannon, from Croydon police who has organised the trip for the past six years said: "This is the sixth year we've done this trip and it's getting bigger all the time. But despite all the aches and pains from the journey there, when we attend the remembrance ceremony and see the war veterans who actually fought in the Battle of Arnhem, it puts it all into sharp perspective. It is a massive event for the city of Arnhem and with Croydon being twinned with Arnhem, it is important that we never forget the sacrifices that people made here for our freedom.
"As part of the trip, we also looked to raise money for Marie Curie Cancer Care. This year, we've raised the bar by cycling over 300 miles to try and raise £10k."