Herts Constabulary Rural Riders get Hi Vis gear
Herts Constabulary Rural Riders get Hi Vis gear
Tuesday, 17 September, 2013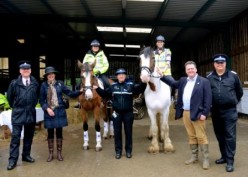 Horse riders volunteering for a new Hertfordshire Constabulary community scheme will soon be more identifiable thanks to high visibility vests donated by a Hertfordshire county councillor. Cllr Ken Crofton (Hertford Rural) has donated £500 from his locality budget to Hertfordshire Constabulary for safety wear for the East Herts Rural Riders scheme which has been launched this month.
Cllr Crofton said: "This police initiative to engage horse riders as their eyes and ears in the rural community is a worthy scheme which I am pleased to support."
Rural Riders, are police volunteers from the East Herts area who ride out regularly in support of police activity. This might include helping to look out for a missing person or generally keeping a look out for any suspicious activity. The high visibility branded vests will help identify the riders and it's hoped, encourage residents to engage with them.
A total of £10,000 is available to each of the 77 members of Hertfordshire County Council to spend on worthwhile community projects in their area.
Locality budgets were launched in July 2009, with funding to be used for worthy social, economic or environmental causes in Hertfordshire. For information on how to apply for funding under the scheme visit www.hertsdirect.org/localitybudgets