President warns public: It could be Bye Bye to Bobbies on the Beat
President warns public: It could be Bye Bye to Bobbies on the Beat
Monday, 09 September, 2013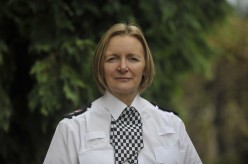 Chief Superintendent Irene Curtis
Highly valuable police intelligence - crucial in preventing terrorist attacks and serious organised crime - could be lost as neighbourhood Bobbies on the Beat become an endangered species.
This warning from Irene Curtis, president of the Police Superintendents' Association of England and Wales, will be given face to face to Home Secretary Theresa May at the association's annual conference in Warwiskshire this week.
Ch Supt Curtis will spell out a policing future where the only officers the public will see will be jumping out of patrol cars, rushing from job to job - with a damaging effect on police and community relations.
She will also emphasise how continued cuts to policing budgets in England and Wales could see the end of neighbourhood policing - with the risk that valuable intelligence currently gathered by front line cops on serious and organised crime and terrorism will be missed.
Ch Supt Curtis said: "We need the Home Secretary and her colleagues in the Coalition Government to hear this. Neighbourhood policing is a core function of policing in this country - but it risks becoming a victim of cuts.
"Neighbourhood police officers develop a very good understanding of the communities they police and the issues they face. They also build up trust with those communities.
"If those officers are not there, we risk valuable intelligence being missed. People will not pick up the phone and ring the police about something they think is minor but will say it to a neighbourhood police officer who will realise it is a valuable piece of information which may help prevent a potentially dangerous incident."
She added: "Whilst a small number of forces are apparently increasing the proportion of 'frontline' officers, others are struggling to maintain the number of police officers and police community support officers who perform neighbourhood policing roles.
"Further cuts will be made to police budgets will be made for at least two more years - and probably longer. It is difficult to see where significant savings can be made other than reducing further the number of police officers and staff. "
The 43 forces in England and Wales have already had to absorb a 20% or £2.4bn reduction in their Whitehall funding since 2010.
Some 15,000 police officer jobs have been lost since the last general election. A total reduction of 31,600, including police staff, is planned by March 2015.
Ch Supt Curtis added: "We cannot let the service evolve to one where all the public see are officers driving from one emergency call to the next - policing in this country means much more than that and Chief Constables need to make some difficult decisions to prevent this from happening.
"In most forces police staff, who often perform support and administrative roles, have already been reduced to an absolute minimum, which means that the only non-warranted officers left to reduce are PCSOs.
"Forces have made significant progress over the last 10 years in developing neighbourhood teams that have strong links to their communities, but the reductions to policing budgets may mean that all this good work is undone, and that the public will no longer have locally known officers to engage