Crime Writers RC Bridgestock land Scott & Bailey TV role!
Crime Writers RC Bridgestock land Scott & Bailey TV role!
Monday, 09 September, 2013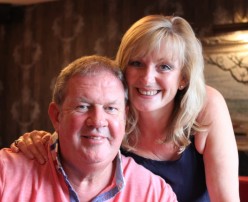 Bob and Carol Bridgestock
A former detective and his police civilian wife have a new crime-fighting role.
Bob & Carol Bridgestock – who became successful novelists after their combined 47-year police career have been appointed as a consultants for the hit ITV crime series Scott and Bailey.
The couple will work as consultant storyline/police procedure behind the scenes on the fourth series of the show.
Scott and Bailey stars Amelia Bullmore, Suranne Jones and Lesley Sharp are police officers Gill Murray, Rachel Bailey and Janet Scott, three members of Manchester's Major Incident Team.
The show's third run drew to a close on May 23, pulling in a final audience of 7.1 million viewers.
Bob, who handled dozens of murder inquiries for West Yorkshire Police and his wife Carol are the couple behind the crime novels featuring Det Insp Jack Dylan, set in the fictional Yorkshire town of Harrowfield.
Darren Laws from Caffeine Nights, the Bridgestocks' UK Publisher, said: ''This follows on from the rights sale into South Korea & Turkey and marks a fantastic year for Bob and Carol Bridgestock.
"They have also been working as consultants with Red Productions Co. On a new BBC 1 commissioned crime drama 'Happy Valley', and have now been asked to work on ITV's award-winning crime drama series, Scott and Bailey."
Due to the success of the writing competitions the couple run on the Isle of Wight to encourage others to read and write, especially children they are also launching a story-writing competition for children in their home town in Calderdale, tied in with their November book launch of their latest novel 'Snow Kills'.
Entry is free but donations can be made to the Forget Me Not Children's Hospice.
Youngsters from the Brighouse and Halifax area will be asked to come up with stories on the theme "Snow Time".
The couple will be at the Isle of Wight Literary Festival as 'Dragon's' in the Dragon's Den. A press release will be given soon.