Police Credit Union Cricket Final to be contested by Dyfed-Powys and Nottinghamshire
Police Credit Union Cricket Final to be contested by Dyfed-Powys and Nottinghamshire
Tuesday, 27 August, 2013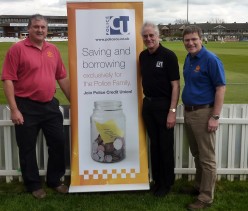 David Fraser-Darling (Hon Sec PSUK Cricket) Peter Evans (CEO Police Credit Union) and Marcus Beale (Chairman PSUK Cricket)
The 2013 National Final Sponsored by Police Credit Union will be contested by Dyfed-Powys and Nottinghamshire on Wednesday 4th September at Derbyshire CCC 1200.
It is Free Entry for anyone wishing to attend and show their support to the 2 Forces involved.
Dyfed-Powys will be making their 8th appearance in 9 years and have been Champions on 5 occasions and runners-up twice.
Nottinghamshire last won the Cup in 2008. They were also Champions in 1991, 1992, 1995, 2002 & 2005 and runners-up in 1980, 1993 & 1997.
This will be the 3rd year of Police Credit Union Sponsorship and PSUK Cricket sincerely hopes it will continue in future years. Their financial support to the running of the Competition is much needed and appreciated.
Semi Final Results
Dyfed-Powys 214 – 9
Lancashire 144 all out
Nottinghamshire 212 all out
GMP 154 – 9
The Giffard Plate Final will be hosted by Leicestershire who will play South Wales & Gwent at Kibworth CC on Thursday 5th September