World Cup Ref
World Cup Ref
Tuesday, 06 August, 2013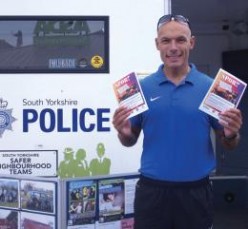 Sport FX and Howard Webb in Thurnscoe, Barnsley promoting free football coaching for kids
On Wednesday, 24 July, 2013, the Sport FX team and 2010 World Cup Final and Premier League referee, Howard Webb, joined the South Yorkshire Police Goldthorpe Safer Neighbourhood Team on their day of action in Thurnscoe, Barnsley.
Howard and the team were there promoting the football initiative that is now in its third year and the free football coaching planned during the summer school holidays at Dearne Advanced Learning Centre.
Sport FX is a project run by South Yorkshire Police, Barnsley Football Club and Barnsley Metropolitan Borough Council to offer free football coaching sessions to boys and girls aged from nine-years-old to 19-years old.
Up to 100 children have been known to attend the coaching sessions provided by qualified Barnsley Football Club coaches. Police Sergeant Howard Webb said: "The Sports FX sessions offer a great opportunity for local kids to enjoy free training sessions delivered by qualified coaches in a safe environment. We hope lots of young people take advantage
of what's being provided by the Sports FX team in Barnsley during August as I'm sure they'll enjoy making new friends, developing their skills and having the chance to play competitive
"Who knows, we might uncover some Premier League stars of tomorrow, but the key aims of Sports FX are access to football for all and of course enjoyment. I'm pleased to be associated with this very worthwhile project."