All for Charity
All for Charity
Tuesday, 06 August, 2013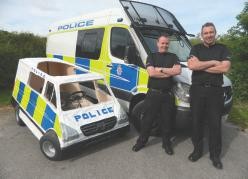 Two officers from Chesterfield swapped their police van for a soap box to raise money for Ashgate Hospice.
Two members of the Operational Support Team, competed in the RedBull Soapbox race at Alexandra Palace, London, on July 14. PC Stephen Browett and PC Adam Case built their
Soapbox with the help of local residents, community members and businesses and came 11th out of the 70 competitors.
The team raised £320 for the hospice, with donations still coming in. In order to enter, each team had to design, build and race their own go-kart, or Soapbox, and the officers decided to try and copy their police van. PC Stephen Browett said: "Myself and Adam decided to enter the Soapbox race to raise money for a really worthwhile local charity, and the obvious theme for us was our police van.
"We ended up coming 11th but we were running in third for most of the day. The police themed racer seemed to go down really well with other participants and spectators.