Award winning evidence-based policing study of TASER EVIDENCE.COM & AXON flex could be coming to a force near you soon!
Award winning evidence-based policing study of TASER EVIDENCE.COM & AXON flex could be coming to a force near you soon!
Thursday, 01 August, 2013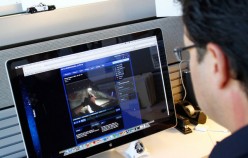 AWARD winning evidence based policing research shows 88% reduction in public complaints & 60% reduction in uses of force using TASER AXONflex officer worn cameras & EVIDENCE.COM digital evidence management solution.
The Society of Evidence-Based Policing 2013 Award for Excellence in Evidence-Based Policing has just been presented to Chief Tony Farrar at the 2013 Conference on Evidence-Based Policing at the University of Cambridge. This is an annual award given for outstanding policing research that advances the evidence base in policing.
Chief Superintendent Alex Murray of West Midlands Police and chair of the Society of Evidence-Based Policing, whilst presenting the award said, "Chief Farrar's commitment to conducting rigorous scientific research on a technology initiative has broad implications for the field of policing. Across the UK, police forces have looked at these research findings and are planning to replicate the experiment."
Chief Farrar of the Rialto police department in California, who recently graduated with a master's degree in criminology, carried out a unique yearlong study which evaluated the effect of TASER AXONflex officer worn cameras, combined with EVIDENCE.COM storage, on police use-of-force and public complaints. These small yet highly visible cameras, powered by a pocket-size battery pack, can attach securely to sunglasses, a cap, a shirt collar, or a head mount and, when recording, capture a wide-angle, full-colour view of what an officer is facing. The video automatically uploads to EVIDENCE.COM a web-based computerised storage and management unit, where it can be easily accessed for review. The file is tamper-proof; it cannot be deleted or altered in any way. EVIDENCE.COM offers digital storage in a highly secure, easily accessible environment.
Glenn Cameron, a former Cambridge student himself and now Technical Director for TASER in the UK said "We are proud to have the academic rigour applied to this evaluation of officer worn cameras combined with the world's first cloud-based police digital evidence workflow management solution. We are already working with UK forces who can see the huge efficiencies from TASER's unique solution."
Rt Hon Francis Maude MP, Cabinet Office minister recently said "IT costs are still too high. One way we can reduce them is to accelerate the adoption of Cloud across the public sector to maximise its benefits. The Cloud First policy will embed the skills a modern civil service needs to meet the demands of 21st-century digital government and help us get ahead in the global race"
Chief Farrar explained "All data from the cameras were collated using a web-based computerised video management system developed by EVIDENCE.COM. The software tracked and inventoried all TASER video camera evidence. The system automatically-uploaded the officers' videos at the end of their shifts and the research team was granted full access to these rich data, encompassing over 50,000 hours of police-public interactions."
TASER AXONflex officer worn cameras were deployed to all patrol officers in the Rialto Police Department. Every police patrol shift during the 12-month period was assigned to experimental or control conditions. After the success of the experiment Chief Farrar now plans to permanently equip his uniformed personnel with TASER AXONflex officer worn cameras & use EVIDENCE.COM storage, in the belief that when civilians and police are conscious of being recorded, they tend to modify their behaviour in positive ways that result in reduced conflict.
This award is great recognition a positive step forward for the future of evidence based policing.
For more information see:
http://www.crim.cam.ac.uk/events/conferences/ebp/2013/index.html