Police bike ride raises money for diabetes
Police bike ride raises money for diabetes
Thursday, 25 July, 2013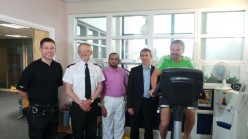 (left to right) PC Dave Wainwright, Chief Supt Stuart Williams, Deputy Police and Crime Commissioner Ibrahim Master, Director of Resources Ian Cosh and Assistant Chief Constable Peter White
POLICE officers helped to raise hundreds of pounds for Diabetes UK by doing a coast-to-coast bike ride.
Officers and staff travelled over 200 miles from Southport to Hull and beyond – on an exercise bike at Leyland Police Station – to support Diabetes Week 2013.
Officers from across the Force got involved including Assistant Chief Constable Mark Bates, Assistant Chief Constable Peter White, Director of Resources Ian Cosh as well as Deputy Police and Crime Commissioner Ibrahim Master.
A total of £300 was raised and will now be given to the charity.
PC Kay Stephenson said: "The target was to ride across the country from Southport to Hull, which we initially estimated would take around 12 or 13 hours. However we underestimated that competitiveness of the riders who managed to ride to Hull by 3pm and carried on into the evening until they made it half way to Amsterdam.
"Although the aim of the day was always about covering the distance and not meant to be a competition, the participants showed real competitive spirit.
"Diabetes UK is an important charity and we are pleased to support it by donating this money."
A number of cake stalls were also held at police stations across the county to raise money for the charity.