Dyfed-Powys Police winners of ACPO Police National Lifesaving Championship
Dyfed-Powys Police winners of ACPO Police National Lifesaving Championship
Tuesday, 02 July, 2013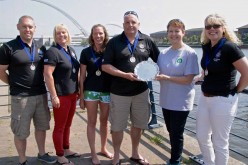 The Dyfed Powys police mixed team receiving The Frank Morritt trophy from the Chief Constable of Cleveland Police Jackie Cheer, and Deputy Chief Constable Dyfed-Powys Police Jackie Roberts.
Every year the ACPO Police National Lifesaving Championships are held in June, rotating across the Policing regions of the United Kingdom. The event is supported by the Royal Life Saving Society, whose training and participation in judging the competition are invaluable to the Police Service.
The Championships are divided into three separate competitions, a Men's Competition – the Police Baton, a Ladies' Compeition – the Alington Cup, and a Mixed Team competition, The Frank Morritt Trophy. Dyfed-Powys Police entered a mixed team and a men's team in the event hosted by Cleveland Police in Middlesborough. It was worth the long journey to the north east – as the Dyfed-Powys mixed team were the overall winners, picking up the Frank Morritt Trophy. The team consisted of captain PC Aled Bowen, PC Simon Phillips, PC Sue Naul, and PC Erika Malien. Their excellent team work was rewarded further as they won the combined incident trophy, and gained top marks in both incidents. PC Aled Bowen was also the top scorer in the separate captain's competition.
The men's team members were captain PC Steve Lewis, PC Ian Thomas, PC Spencer Rourke and PS Russell Wilks from South Yorkshire Police who stood in following a last minute withdrawal.
PC Aled Bowen has been involved in Lifesaving for most of his Police career having trained as a lifeguard prior to joining the Police. He is currently a Royal Life Saving Society Trainer Assessor and a surf lifesaving coach involved in the training and testing of beach lifeguards. He is also coach at the Llanelli Surf lifesaving Club where he continues to compete. He has coached a number of Welsh champions and last year coached the current senior boys British Champions.
In September PC Bowen will be part of the Welsh management team heading to Australia with the Welsh team to compete in the RLSS Commonwealth Championships in Canberra.
PC Bowen said, "As a team we were thrilled with our performance and the fact we won the Frank Morritt Trophy. We'd like to thank the senior management team of Dyfed-Powys Police for their support and especially Deputy Chief Constable Roberts for her continued support, enthusiasm and active participation."
DCC Roberts stated, "This is the second year in a row that the team has won these elements of the championships and it is a credit to their hard work and dedication to lifesaving – we are very proud of their achievements."